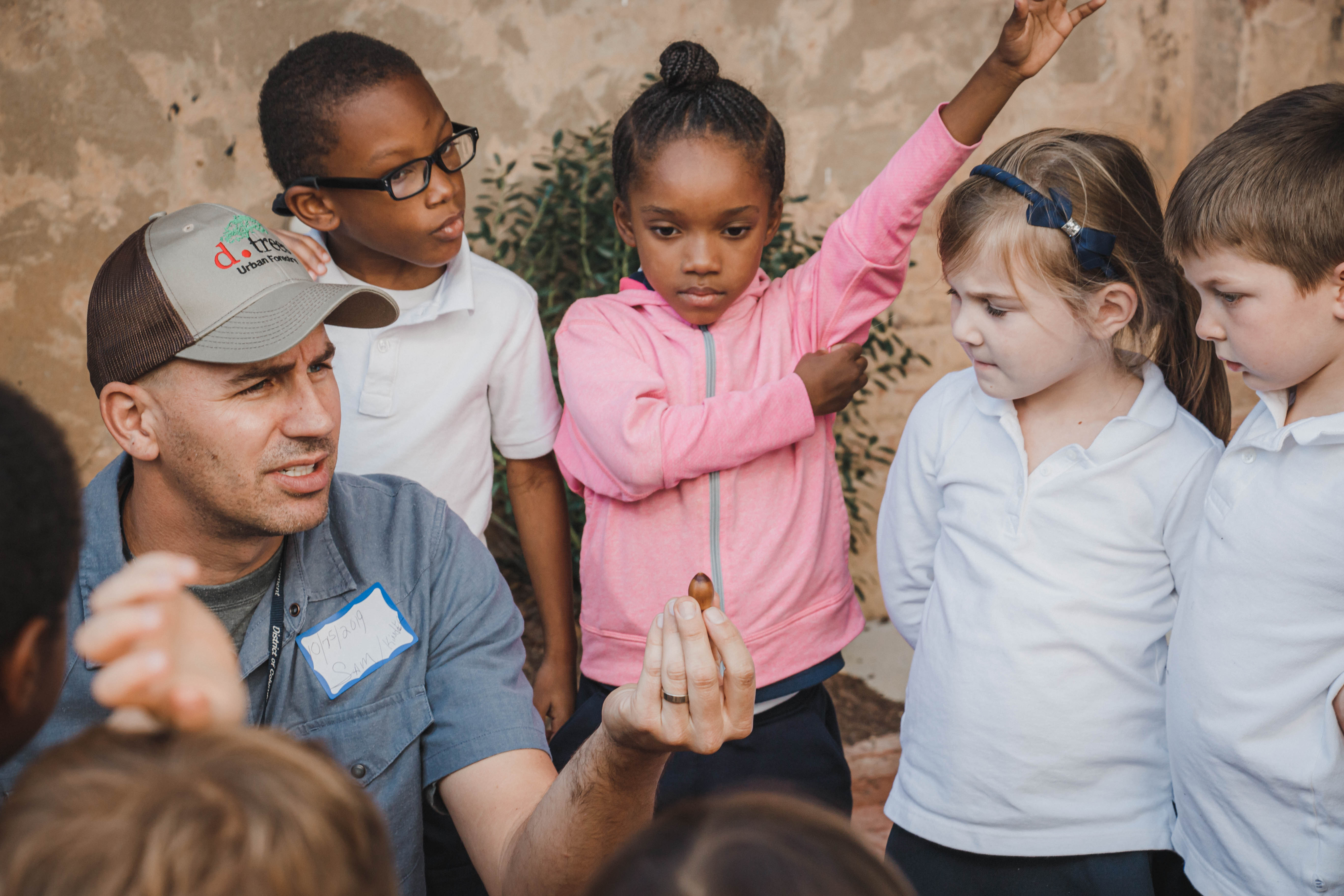 Many of today's young people are more accustomed to playing on iPads than playing in parks. The first step in educating such a generation about agriculture may be by simply getting them outside. 
The National Farm to School Network (NFSN) strives to close the gap between youth and the food that they eat through outdoor garden education, classroom learning focused on food and farming and local food procurement in school cafeterias. 
In the School
Sam Ullery, school garden specialist for the Office of the State Superintendent of Education (OSSE) in Washington, D.C., visits schools across the nation's capital that are interested in teaching their students about the farm-to-school mission. 
Sam recently visited Maury Elementary where he taught a group of kindergarteners how to use their senses to observe the natural world. Students collected objects that were shiny and dull, round and flat, scratchy and smooth. They then shared what they found with their peers, discussing what senses they used to categorize their newfound treasures. While this activity didn't focus directly on food production or the agriculture industry, it got students thinking about the earth in a new, hands-on way. 
"Farm-to-School is very theoretical to those who aren't familiar with it. However, if a teacher came into a classroom and said, 'We're taking the kids to do a lesson outside on this beautiful day,' that's farm-to-school, too,'" he said. 
Changing Mindsets
Sam makes sure to teach lessons from NFSN's public curriculum database when he visits D.C.'s schools. He hopes to demonstrate how easy it is to engage students in learning Farm-to-School concepts and encourage teachers to utilize the vast array of NFSN's online, public resources to do just that.
"The biggest challenge is getting teachers to be comfortable teaching beyond their comfort zone by taking kids outside of the classroom. It's been a fun challenge to do that, to change the mindset of teachers and administrators," he said. 
Not something extra 
Often, Sam accomplishes this is by showing teachers how the Farm-to-School curriculum is designed to connect to teachers' existing learning goals for their students. "We're showing how the garden isn't something extra, but it's something that can support what students are learning in the classroom," he said.  For example, Sam's kindergarteners practiced exploration skills useful for future science experiments and they learned new descriptive words important for the language arts. 
NFSN and Farm Credit are united in our missions to support farmers and rural communities. This means ensuring that future generations of Americans feel connected to the food they eat and understand how it is produced. Farm Credit is proud to support NSFN during Farm-to-School month and every month as they educate young people about food and nutrition in the garden, the cafeteria and the classroom.