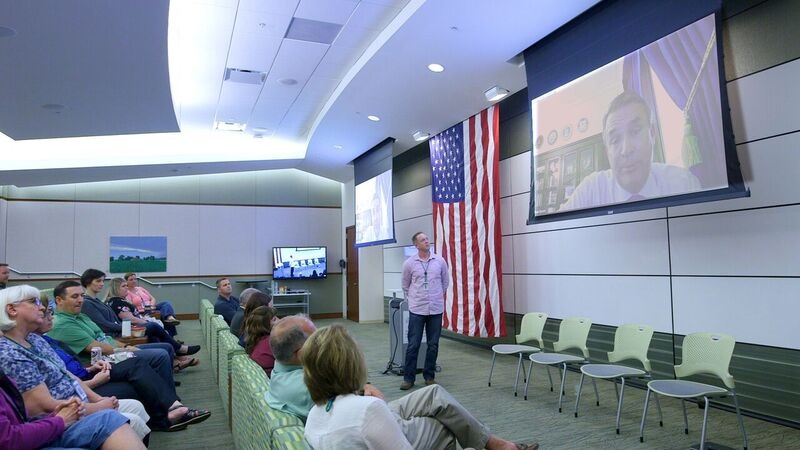 Farm Credit's commitment to farmer veterans extends beyond the farm. Many Farm Credit employees are military veterans themselves, and for them, supporting veterans in agriculture is a natural extension of their service to our country. This May, Farm Credit Services of America (FCSAmerica) and Frontier Farm Credit celebrated Military Appreciation Month and their military veteran employees with a special event spanning their service territory in Iowa, South Dakota, Wyoming, Nebraska and Kansas.
Chris Obermeyer, a veteran and vice president of credit operations at FCSAmerica, hosted a panel discussion featuring his Farm Credit colleagues who served in the armed forces. The event also garnered a special appearance by Rep. Don Bacon of Nebraska and members of his staff. 
Veterans in the audience were honored to hear from Air Force veteran Rep. Bacon, as well as the other panelists, who discussed how the skills they gained while in the military prepared them for civilian life. When asked about the value that veterans bring back to their communities and places of work, Rep. Bacon said, "The military teaches leadership, self-discipline and loyalty and those are traits that you want in any organization…I think we're programmed to understand the direction of an organization, follow the rules and work hard."  
Obermeyer organized the event as the first step in his goal to build a stronger community for his military veteran colleagues. Sixty individuals attended the event in person and nearly 30 Farm Credit branch locations tuned into the webinar. 
Rep. Bacon appreciated the opportunity to engage with Farm Credit staff from around the region and update them about ongoing Farm Bill negotiations, said Obermeyer. "Congressman Bacon grew up on a farm in Illinois and it's nice to know that he's working on our behalf.
"I strongly encourage other Farm Credit associations to work together with their congressional leaders to build relationships between constituents and those who represent them," said Obermeyer.
Janet Bailey, director of industry and legislative engagement at Frontier Farm Credit and FCSAmerica, added, "Veterans tend to be very humble about their contributions to Farm Credit, and to agriculture. I appreciate what Chris has done within our associations to elevate the understanding and the value of veterans' experiences, as well as to engage our veteran co-workers to share their stories. I believe that these efforts will also contribute to greater engagement with producers who are veterans."