Farm Credit is proud to be a key partner in the American Farm Bureau Federation's Ag Innovation Challenge, which awarded $165,000 in startup funds to ten businesses this year. Launched in 2015, the Challenge is the first national business competition focused exclusively on entrepreneurs launching food and agriculture businesses centered on strengthening rural America.
From a pool of applicants from across the country, ten startup businesses competed at the 2022 AFBF Convention in January as semi-finalists and received $10,000 each. The semi-finalists were selected by Farm Bureau and members of the Farm Credit Rural Investment and Innovation Workgroup, Farm Credit leaders who engage with Rural Business Investment Companies and rural entrepreneurs.
Leading up to the competition, these ten teams participated in pitch training and mentorship from Cornell University's SC Johnson College of Business faculty. Watch the top ten semi-finalists introduce themselves and their companies.
Four expert judges selected four teams to go on and compete in a live "Shark Tank"-style competition for a total of $50,000 in start-up funds for the Ag Innovation Challenge winner, a total of $20,000 for the runner-up, and an additional $5,000 for the People's Choice Award-winning team, selected by popular vote.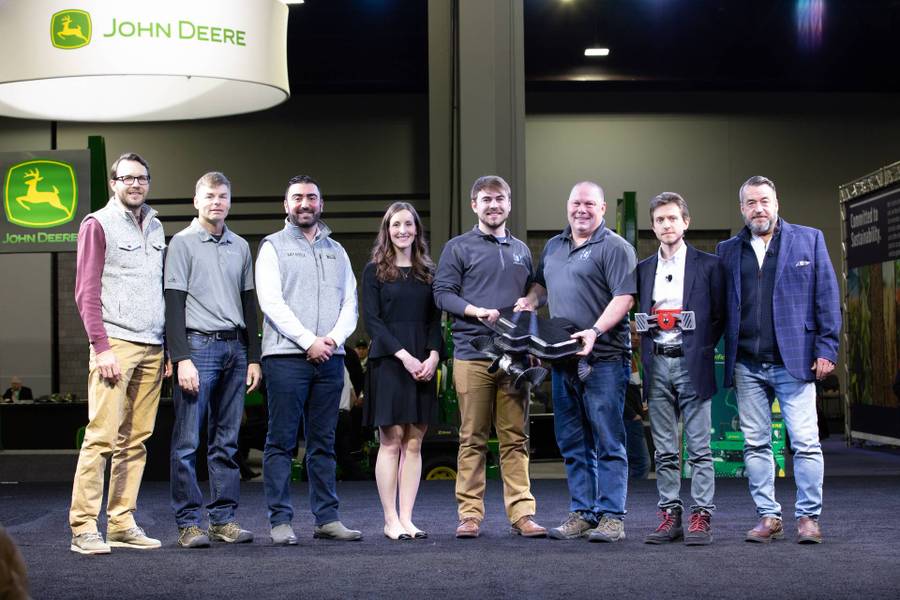 Champion:
Farm Credit is delighted to share that Grain Weevil Corporation is the winner of this year's Challenge and recipient of the $50,000 prize! The Grain Weevil is a grain bin management robot that improves quality and eliminates the need for farmers to enter grain bins. Ben Johnson, a Nebraska Farm Bureau member, acted as the team lead for the company.
"It's super exciting that they provide opportunities like this for startups," said Johnson in a recent interview. "[It] allows us to connect to future customers, it allows us to connect to people that can really help us bring this product to market, and we can't thank the sponsors and Farm Bureau enough for giving us this opportunity."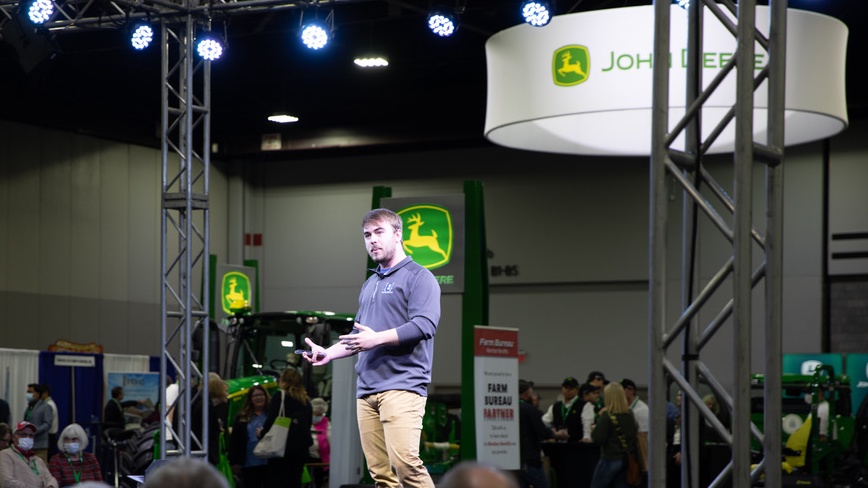 Runners-Up:
Birds Eye Robotics was named runner-up in the contest, with an autonomous robot that helps maintain poultry houses and improves animal welfare by encouraging bird activity.
After listening to the pitches, exploring the four finalists' websites and delving into their social media platforms, AFBF Convention attendees and followers cast their vote for the winner of the 2022 People's Choice Award. The winner was Caravan Tech LLC, a top 10 semi-finalist, which provides real-time remote management solutions for ranchers and cattle breeders.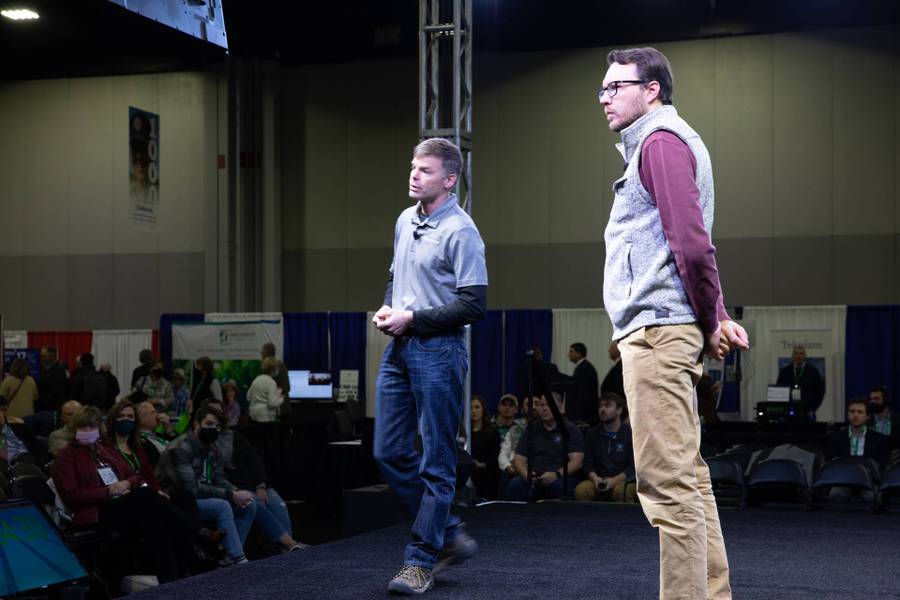 Judges:
The 2022 Challenge's judges came from a variety of backgrounds with a wide range of experiences and immense expertise.
The judges for the Top 10 Semi-Finalists included the following experts:
Will Hileman, President & CEO, Farm Bureau Bank

Gary Matteson, Vice President, Beginning Farmer Programs and Outreach, Farm Credit Council

Ben Fogle, Partner, Midwest Growth Partners

Taya Spelhaug, TechSpark manager, Microsoft
The Ag Innovation Challenge winner was selected by a three-person judging panel:
Gregg Warren, managing director, Corporate Banking Group, American AgCredit

Jenn Smith, program director, Grow-NY, Cornell University

Lydia Turkié, director, Creative Destruction Lab, Georgia Tech
On the opportunity to participate in the Ag Innovation Challenge as a judge, Warren says he was "especially excited to meet some of the nation's most brilliant ag entrepreneurs, and learn about the impact their visionary innovations will have on farmers and ranchers -- and Farm Credit customers -- of the future."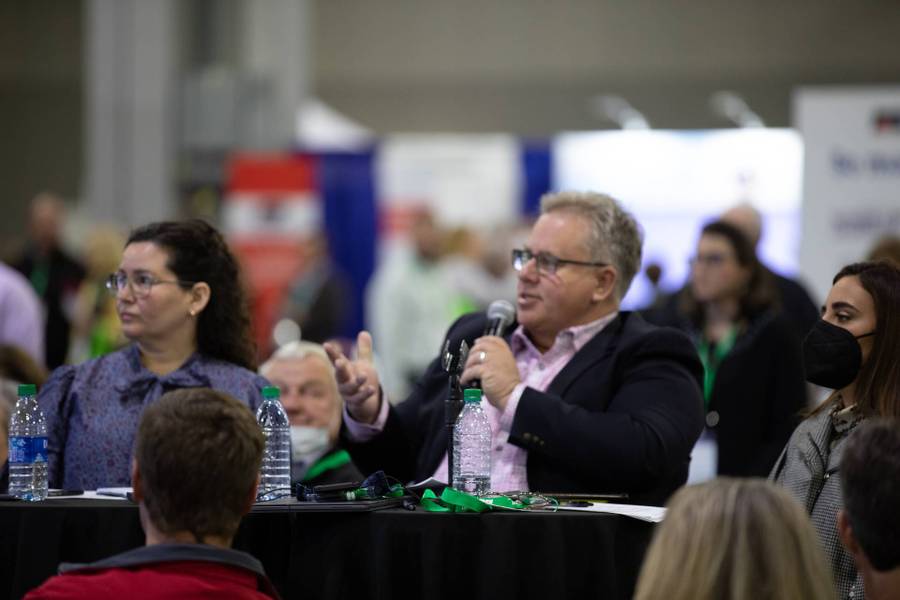 Calling All Entrepreneurs
The 2023 Ag Innovation Challenge application launched in January. Spread the word with your networks and on social media! Food and ag innovators may apply at fb.org/challenge through April 29, 2022.

Committed to Rural Communities
Farm Credit supports rural communities and agriculture with reliable, consistent credit and financial services, today and tomorrow. Providing much-needed capital to Rural Business Investment Companies (RBICs) and other rural entities, mentoring rural entrepreneurs and fostering innovation in rural America are other ways Farm Credit fulfills its mission to support vibrant rural communities. That is why Farm Credit is pleased to be the American Farm Bureau Federation's premier partner on the Ag Innovation Challenge.
All Photography Credit: AFBF Photo - Philip Gerlach.