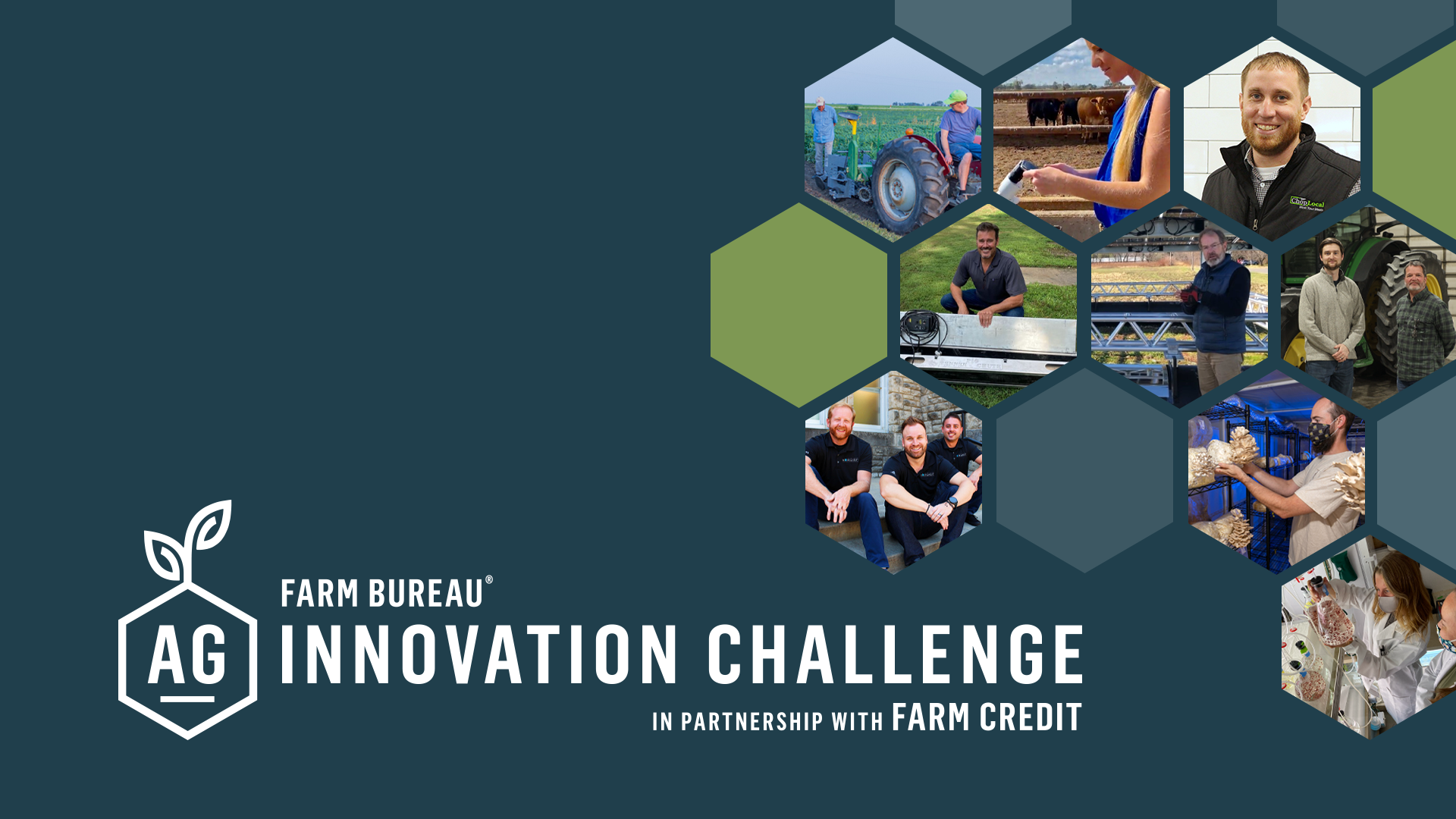 Farm Credit's commitment to supporting rural communities and agriculture means ensuring rural entrepreneurs have the tools they need to overcome barriers and grow their businesses, at home in rural America. 
The Farm Bureau Ag Innovation Challenge launched in 2015 as the first national business competition focused exclusively on rural entrepreneurs launching food and agriculture businesses. Today, it continues to focus on strengthening rural America through ag entrepreneurship.  
Nine inspiring entrepreneurs will compete in a live pitch-style competition and networking event at the American Farm Bureau Federation's Convention on January 6, 2023, in San Juan, Puerto Rico. The Ag Innovation Challenge Winner will win $50,000 in startup funds provided by sponsors Farm Credit, Bayer Crop Science, John Deere, Farm Bureau Bank and Microsoft. 
Meet this year's semi-finalists:
ChopLocal: Jared Achen, Iowa 
ChopLocal aims to increase the rural share of the food dollar by enabling livestock farmers and small processors to serve as meat wholesalers and retailers via e-commerce. 
Learn more: www.choplocal.com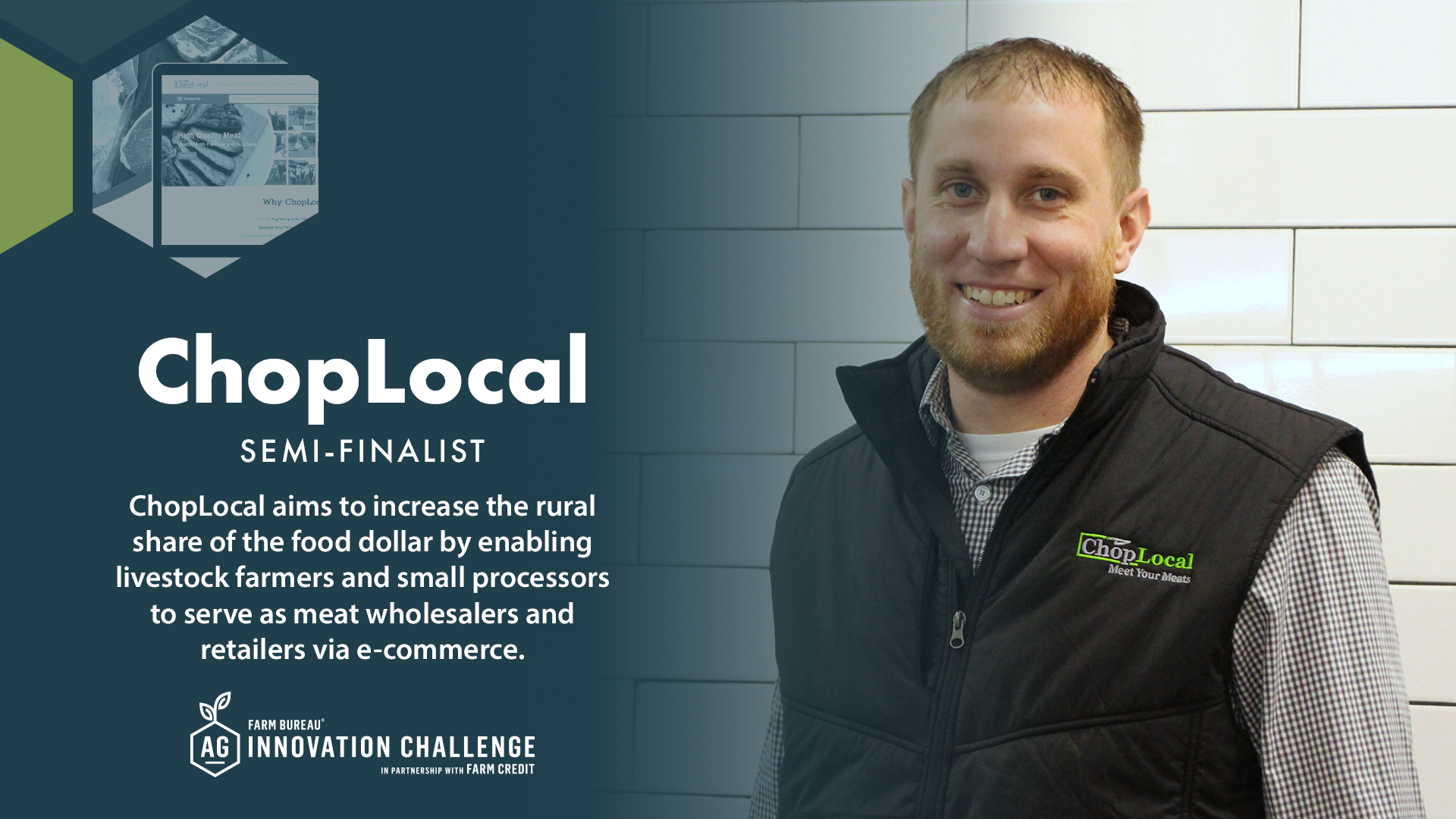 Emgenisys: Cara Wells, Texas 
EmGenisys, Inc is an animal health company founded with a common commitment to improve the production economics and sustainability of livestock production.
Learn more: www.emgenisys.co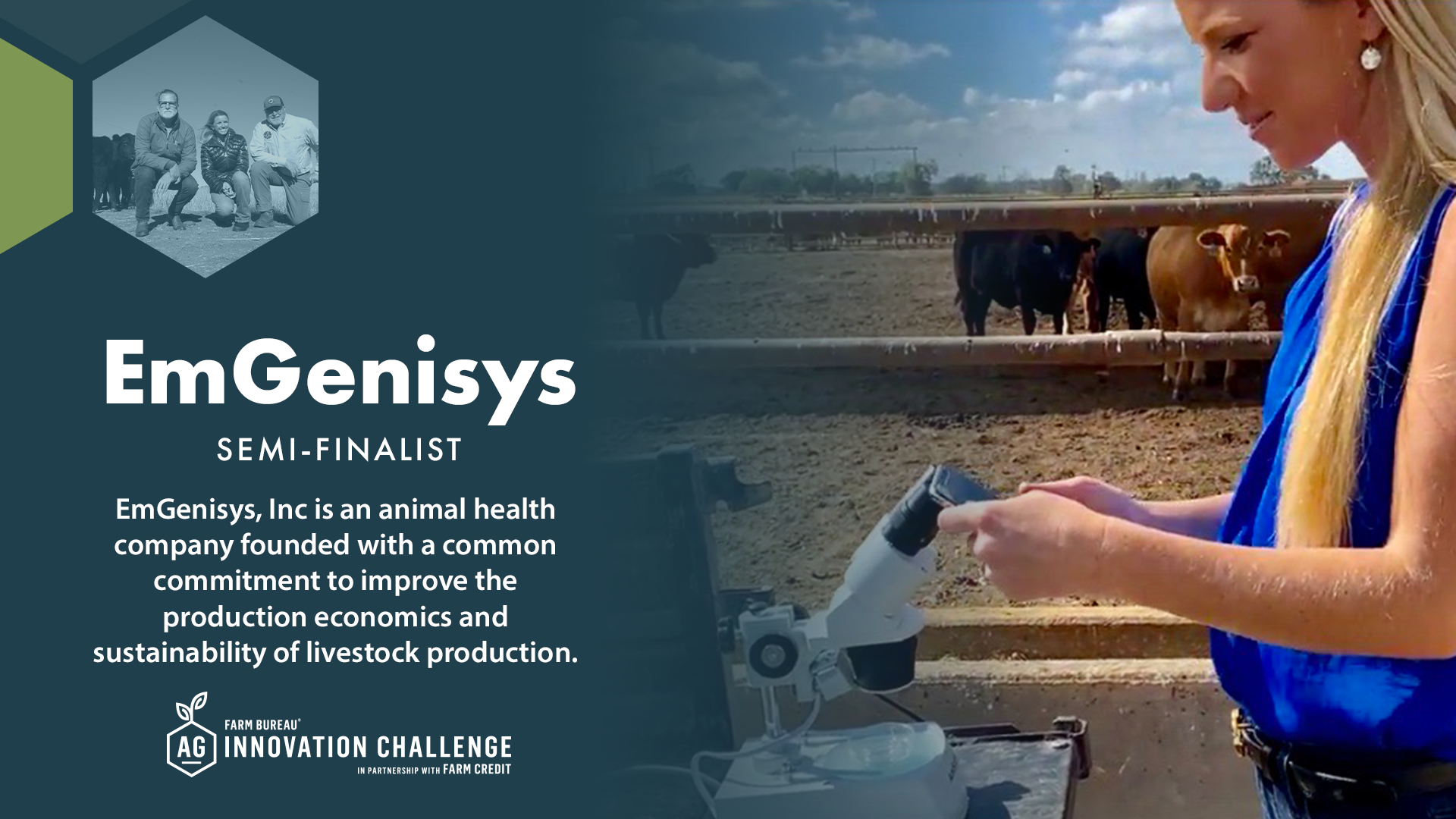 Hennen Pig Chute: Brad Hennen, Minnesota
The Hennen Pig Chute was developed to facilitate proper restraint when vaccinating small pigs. 
Learn more: www.Hennenpigchute.com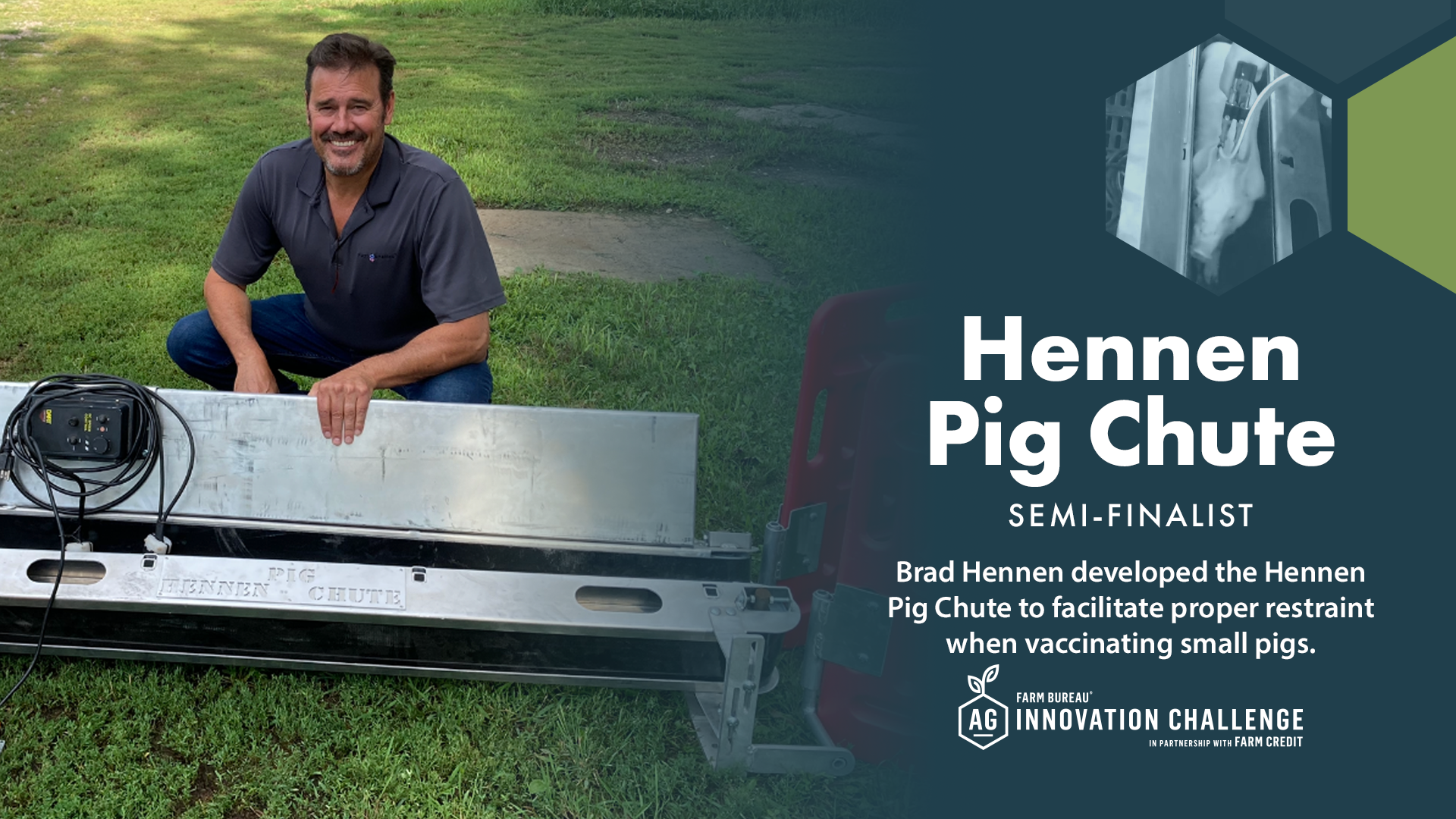 MycoLogic, LLC: Chris Cornelison, Georgia
Mycologic, LLC, empowers farmers to grow mushrooms more profitably at scale using embedded systems and proprietary software.
Learn more: mycologic.solutions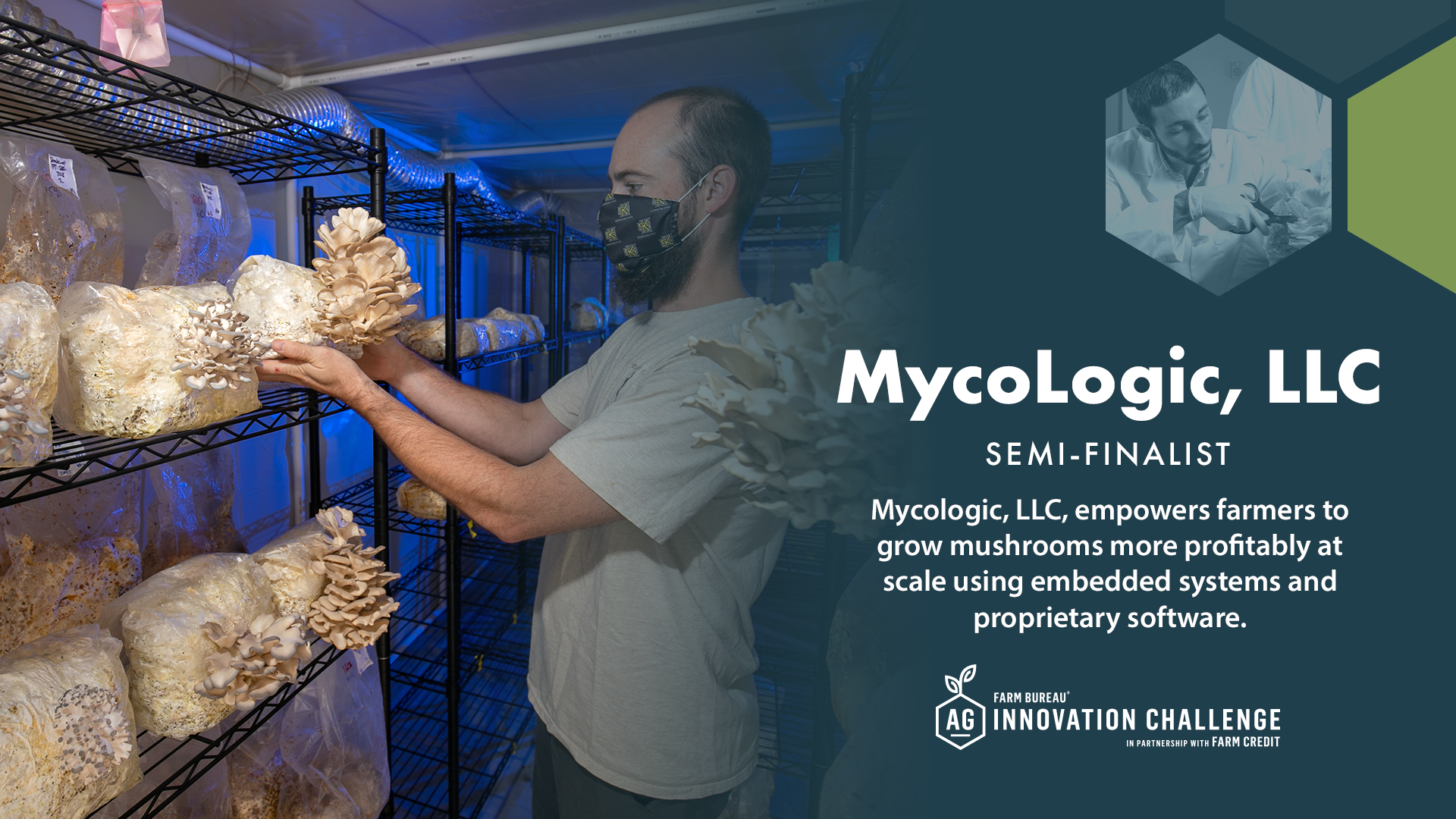 NORDEF: William Walls, Kansas
NORDEF has developed a high-impact, issue-oriented technology to produce diesel exhaust fluid at the point of use. 
Learn more: www.thenordef.com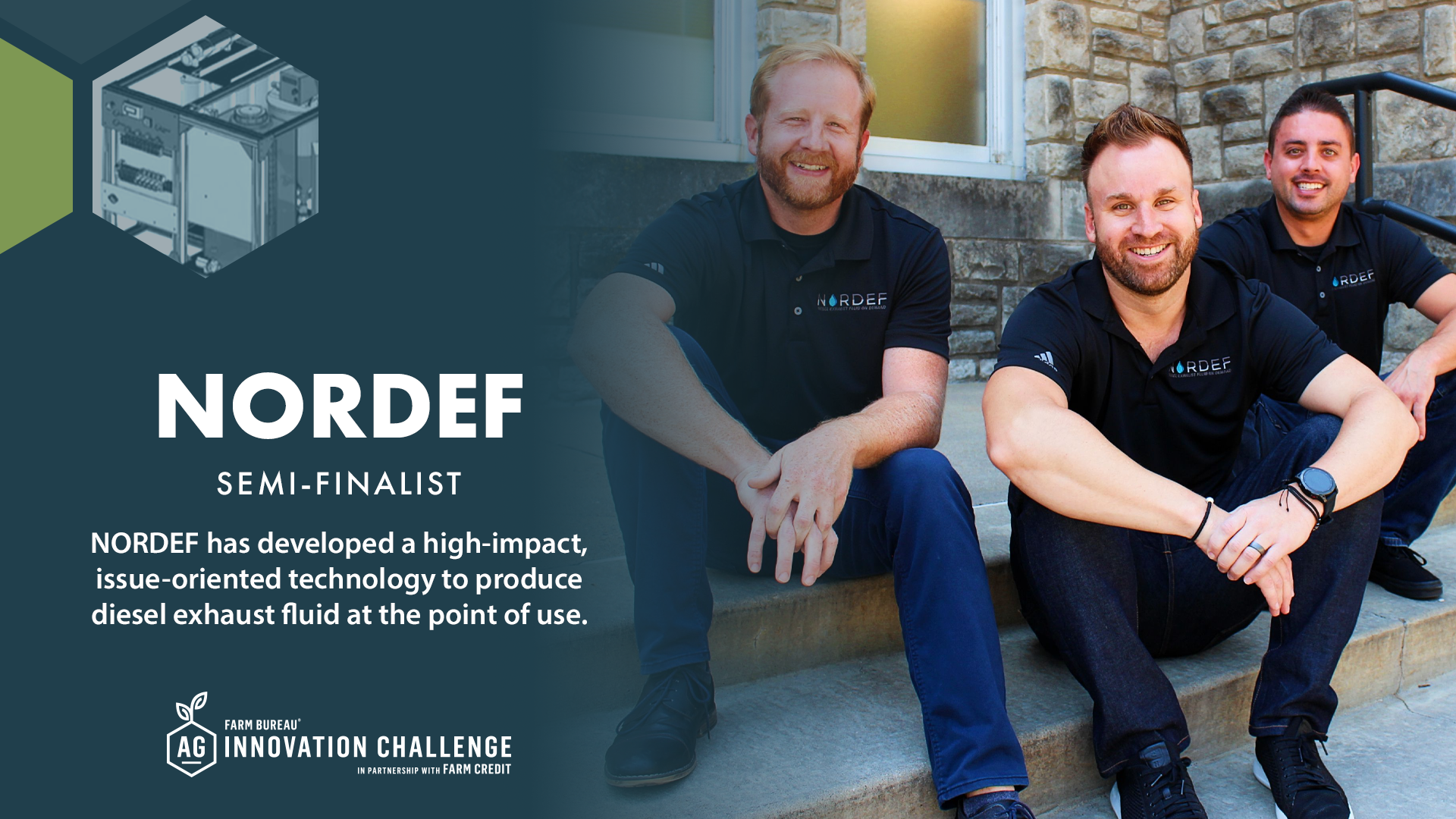 ReEnvision Ag: Jason Ryner, Iowa
ReEnvision Ag is developing the next generation of row crop planers specifically designed to operate in no-till, strip-till, cover crop and heavy residue environments. 
Learn more: www.reenvisionag.com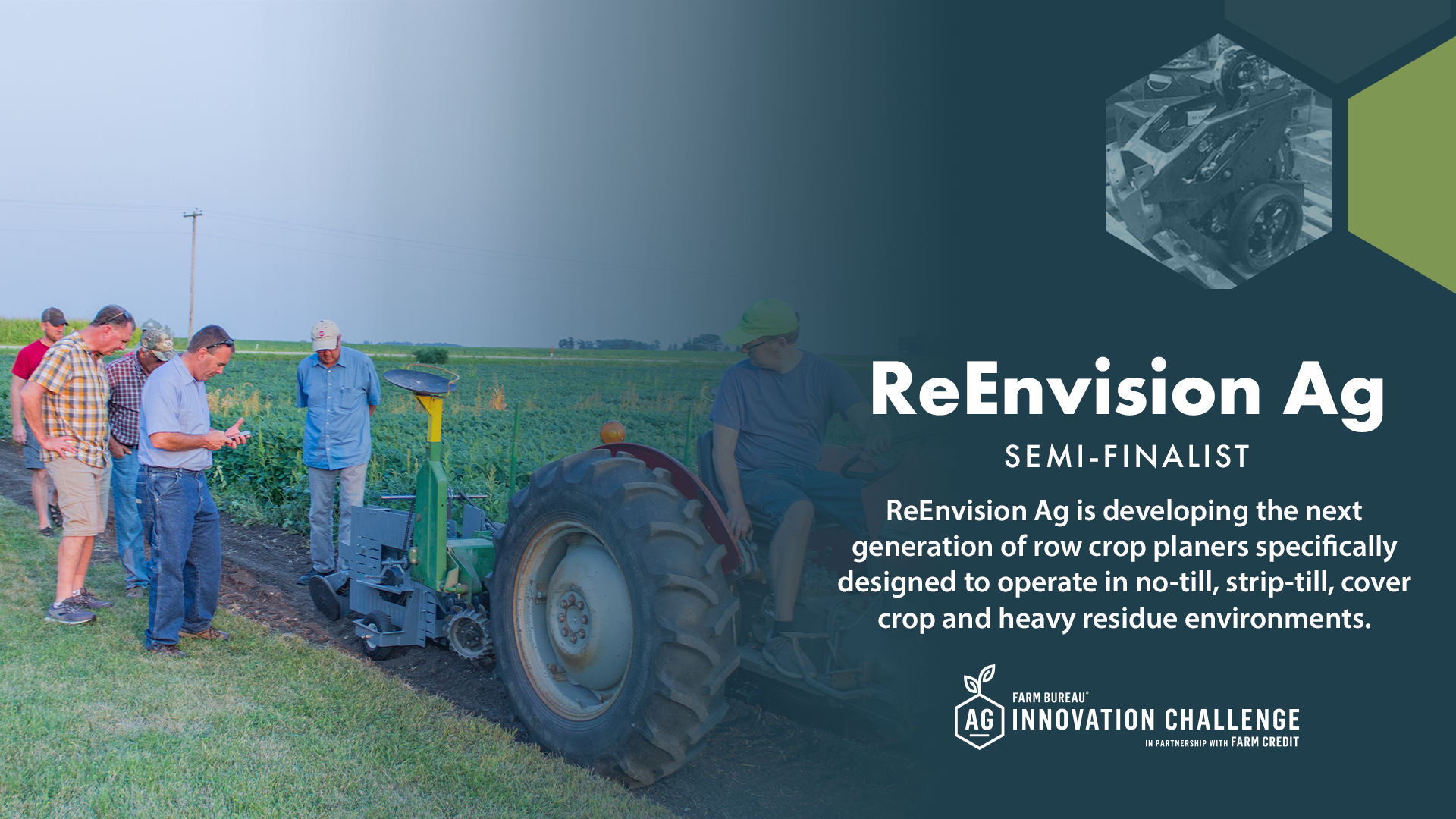 Symbrosia: Alexia Akbay, Hawaii
Symbrosia works to make dairy and beef producers more financially and environmentally sustainable by producing and distributing a seaweed feed additive that reduces methane emissions. 
Learn more: symbrosia.co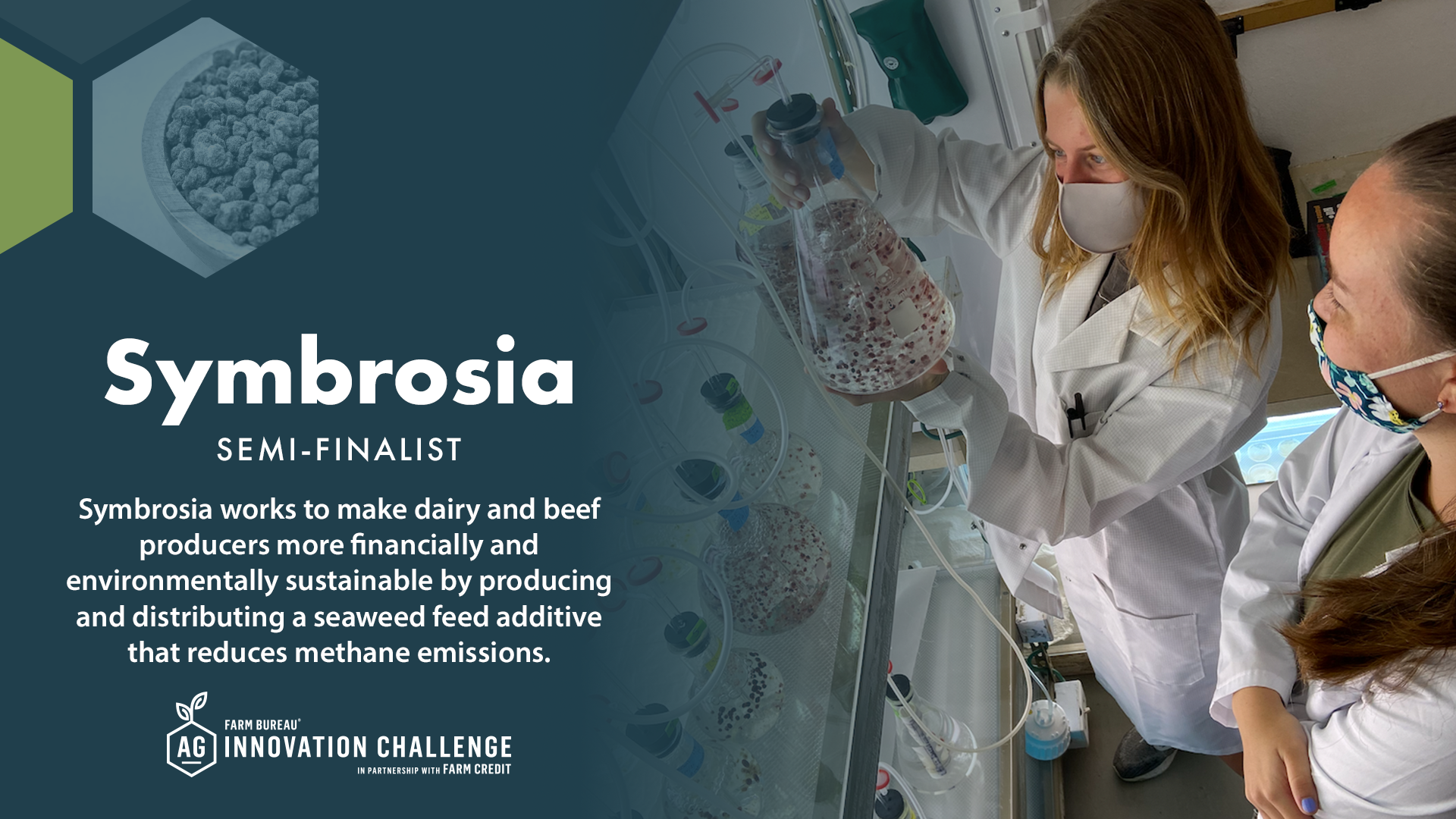 TrackerSled: Lawrence Kearns, Illinois
TrackerSled will enable row crop farmers to grow food and generate all the energy they need on the same land by delivered SunFarmor modules to farmers. 
Learn more: www.trackersled.com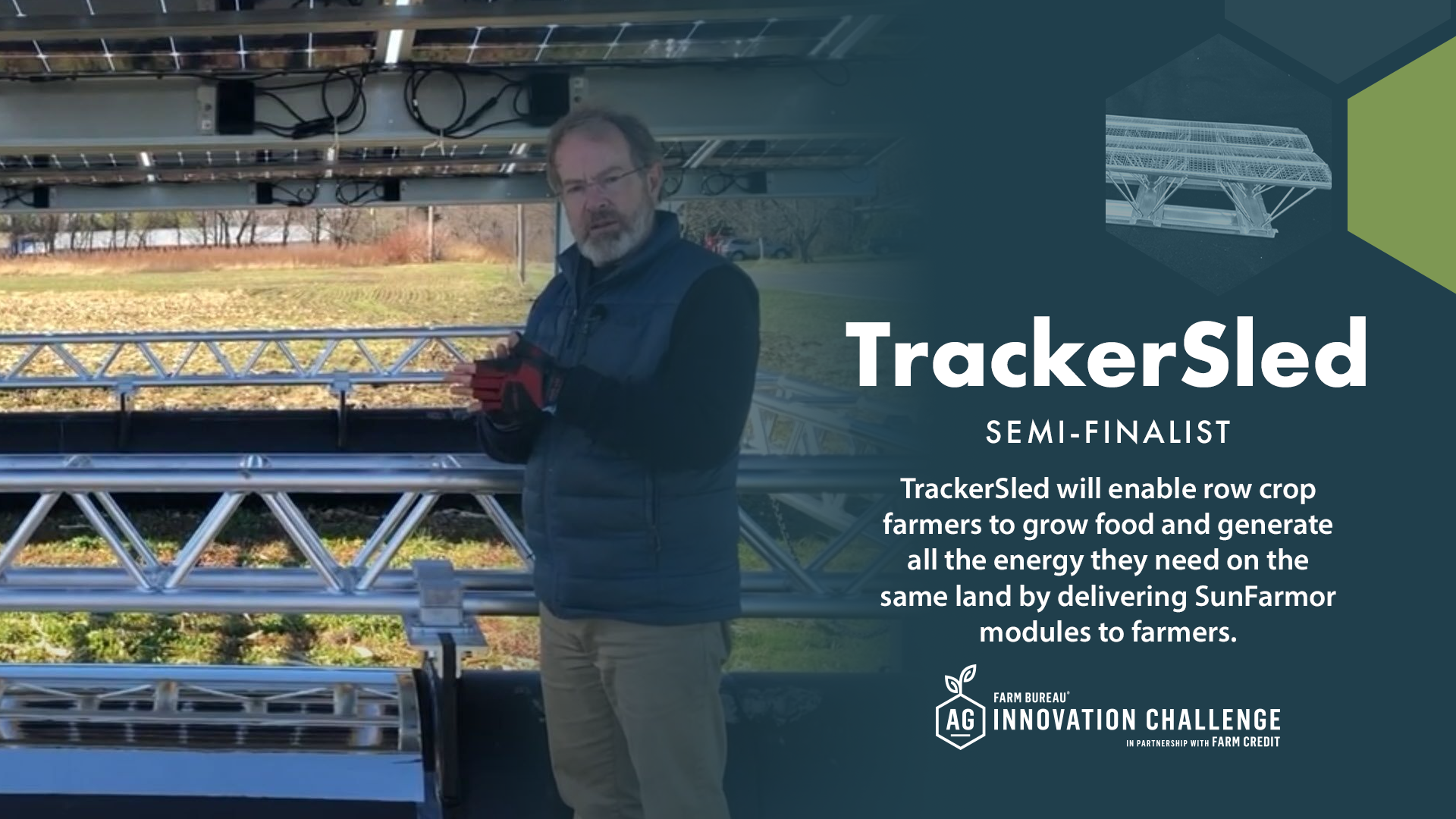 TreadSure: Preston Parmley, Nebraska
TreadSure is the first-ever platform for buyers and sellers of used farm equipment to verify the remaining life of tires on the piece of used equipment. 
Learn more: treadsure.app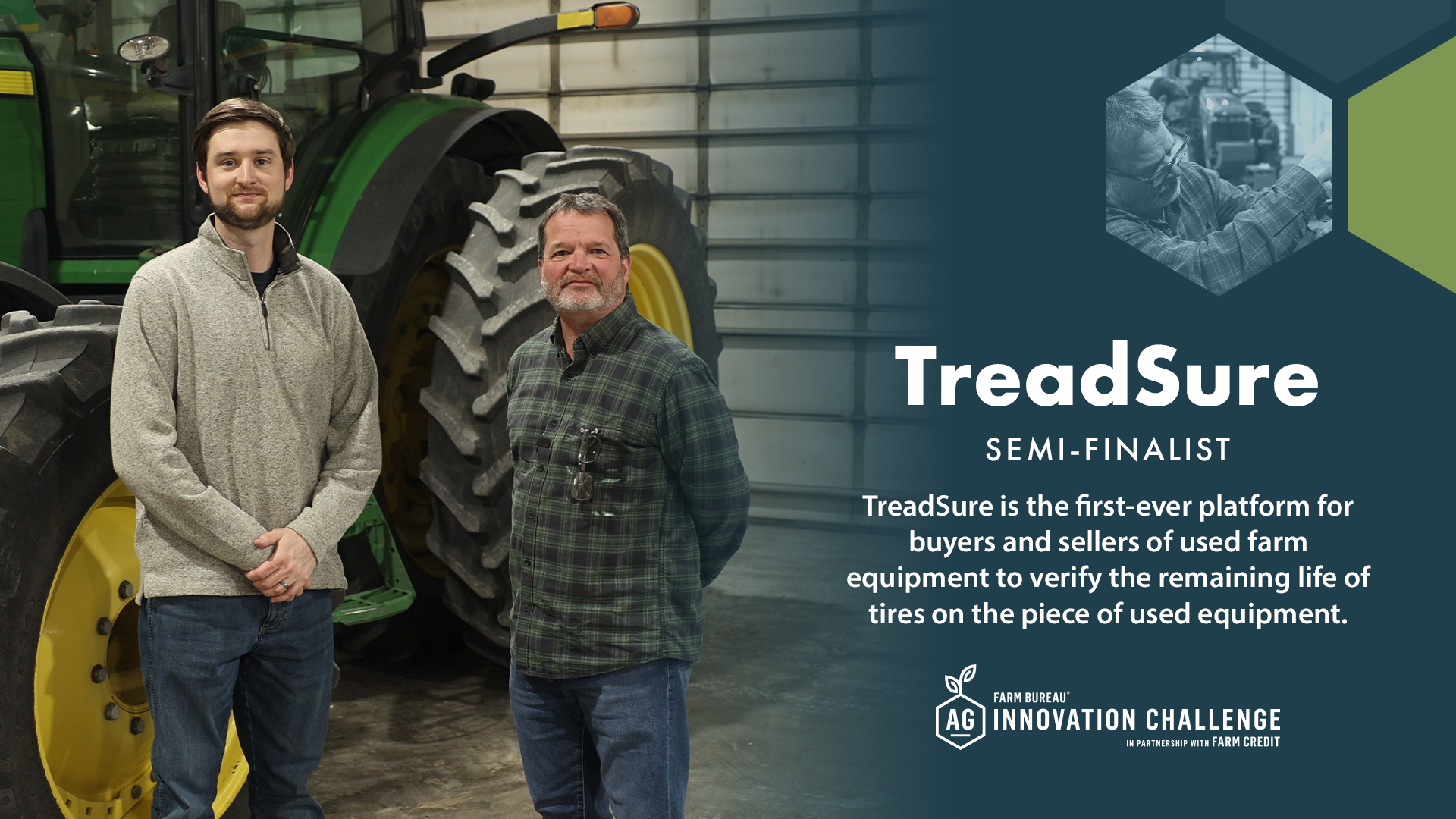 Prizes:
Since the launch of the competition, Farm Bureau has awarded more than $1 million in startup funds to companies working to bring innovations to farms and ranches, through a partnership with Farm Credit and sponsor support. This year, Farm Bureau will award $165,000 to nine businesses: 
$50,000 to the 2023 Ag Innovation Challenge Winner 

$20,000 to the 2023 Ag Innovation Challenge Runner-Up 

$15,000 to the Final Four teams 
$10,000 to the nine semi-finalist teams 

An additional $5,000 to the People's Choice Team (chosen by public vote; all nine teams are eligible)