Farm Credit is committed to preparing the leaders of tomorrow through its support for educational institutions. Investing in valuable and relevant research today will help ensure a thriving agricultural industry for years to come. Farm Credit institutions across the country demonstrate this support through partnerships with universities and colleges to provide scholarships, engage with students and support cutting-edge research and facilities.
With the cost of higher education continuing to increase, Farm Credit supports students majoring in agricultural and business-related fields with tens of thousands of dollars in scholarships each year. Jennifer Case from Bogue Chitto, Mississippi, has benefitted from a scholarship provided by Southern AgCredit. Jennifer and her husband have a three-year-old son who suffers from an autoimmune disease. Their son's condition has been costly, and Jennifer decided to return to school in hopes of gaining employment and supporting her family. Thanks to Southern Ag Credit, Jennifer continues to pursue a degree in business and advance towards her dream of becoming a university professor. 
Alabama Ag Credit supports students through its partnership with Tuskegee University, a historically black land grant university. The Farm Credit association awards academic scholarships to agribusiness students and helps broaden their understanding of agriculture through farm tours and networking opportunities.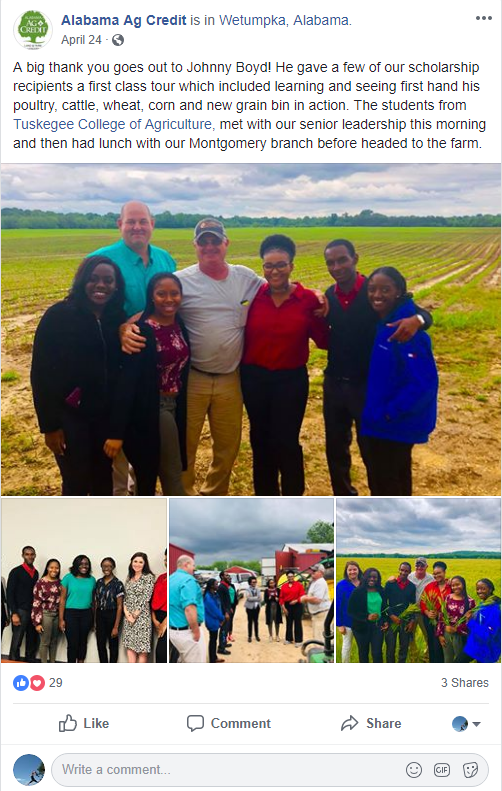 In addition to traditional scholarships, Farm Credit engages with university students through fellowship programs. Farm Credit Fellows work closely with the sponsoring Farm Credit association while gaining valuable knowledge and skills relevant to the field of farm financing. Here are a few examples of programs across the country: 
Horizon Scholars Program. This yearlong experience for students at Penn State University includes educational seminars, a one-week externship, field trips to local agribusinesses and credit analysis projects. The program also encourages participants to consider a career with Farm Credit. As graduation approached for 2018 scholar Casey Branstette, she accepted a position as a financial specialist at Horizon Farm Credit.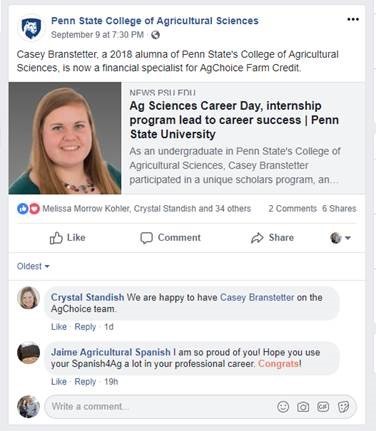 Premier Farm Credit Student Board of Directors. Students at Colorado State University collaborate on two projects over the course of the year that address research questions posed by Premier Farm Credit. The 2017 class created a series of financial literacy guides now available to Farm Credit customers and the public. One student said, "The best part of the experience was the networking I was able to do, as well as creating materials that will actually be used to benefit the farmers and ranchers Premier Farm Credit serves."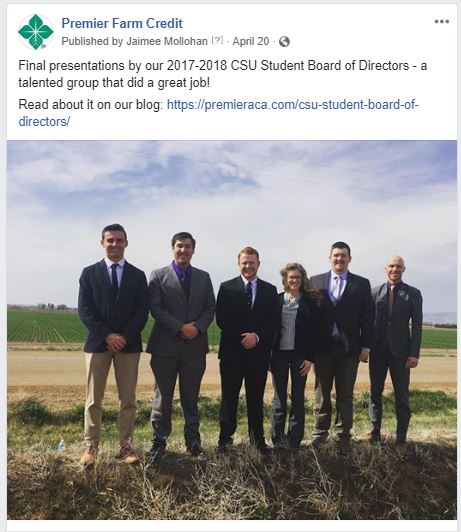 Western AgCredit and Northwest Farm Credit Fellows Program. Among a variety of topics, students in this program learn about insurance and appraisal, lending standards, loan pricing and problem solving. David Brown, president of Western AgCredit, said, "The Farm Credit Fellows program has assisted in our recruitment efforts, as well as provided a meaningful educational opportunity for students. It is a wonderful opportunity for students interested in ag lending, or those that want to return to the family farm or ranch, to learn about Farm Credit. It is such a worthwhile investment in the agricultural community."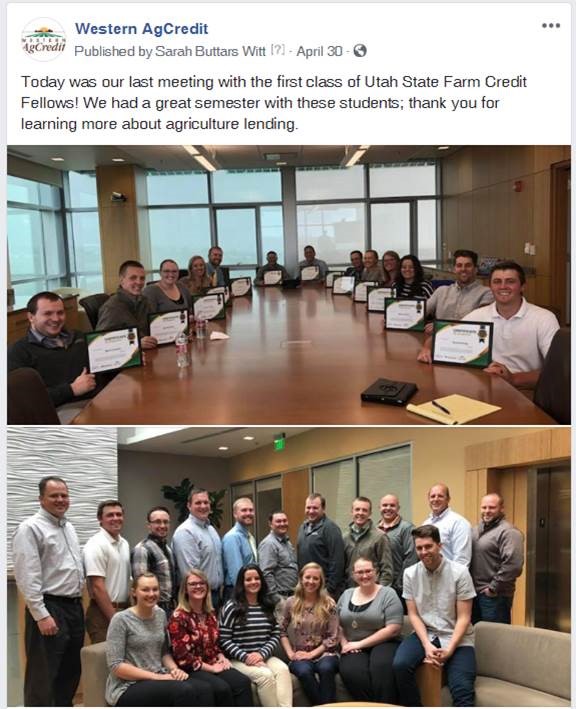 AgCountry Farm Credit Services Farm Credit Fellows Program. AgCountry partners with Farm Credit Services of Mandan and Farm Credit Services of North Dakota to create this opportunity for students to learn about Farm Credit, the cooperative structure, business financial measurements and much more. Students enroll in a three-credit course at North Dakota State University designed exclusively for members of the program and at the end of the year, they turn their knowledge into action by joining Farm Credit loan officers and analysts in reviewing loans. Jean Johnson, marketing communications consultant for AgCountry Farm Credit Services, said, "Farm Credit Fellows has truly been a win-win, inspiring both the students and Farm Credit. As one young producer said, 'I just can't wait to dig into my dad's financials!'"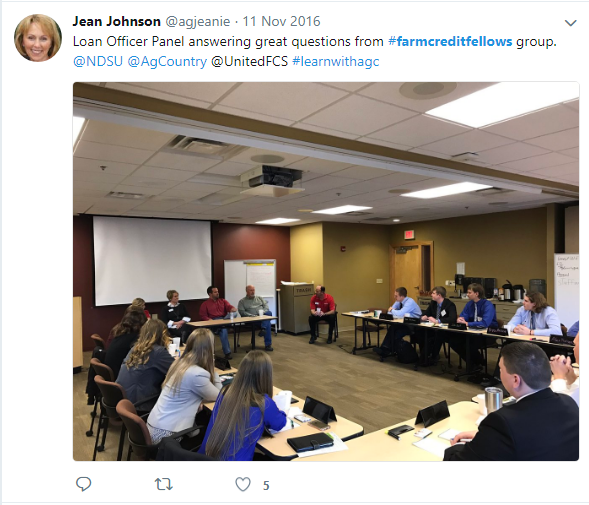 Farm Credit also invests in community colleges and universities with the intention of supporting these institutions and their students in the long term. For example, Farm Credit Illinois established three permanent endowments at the University of Illinois at Urbana-Champaign totaling nearly $950,000. It also supports an ag finance scholarship at Southern Illinois University Carbondale through a $30,000 endowment. These funds enable continued investment in students' agriculture-related academic pursuits for generations to come. 
In 2018, CoBank partnered with South Dakota State University (SDSU) through a $250,000 grant to help construct SDSU's new precision agriculture facility. SDSU is the first university in the country to offer majors and minors in precision agriculture. This new facility will house Agronomy, Horticulture and Plant Science in order to foster integrated research, teaching and problem-solving. 
Farm Credit remains committed to supporting the future of agriculture for generations to come. Our support for students and educational institutions across the nation will continue to strengthen the agriculture industry well into the future. 
Information for this post was gathered from Penn State News, Premier Farm Credit's website and newsletter, an issue of Landscapes Magazine that will be made public in December 2018, an article from the Tri-State Livestock News, and email correspondence with Farm Credit staff.