Agriculture is a risky business, and natural disasters can devastate communities and jeopardize a farm family's entire livelihood in an instant. As a local lender to farmers, ranchers and rural infrastructure providers, Farm Credit understands the challenges our customers face. And when disaster strikes, we're out there pitching in however we can. 
As we enter 2018's hurricane season, a quick review of the past 18 months reminds us of the destructive hurricanes, wildfires and tornadoes that affected communities across the country – communities like Silsbee, Texas, hit hard by Hurricane Harvey last August. Capital Farm Credit and Southern Ag Credit immediately stepped up to help in Harvey's wake. Together, employee volunteers from these two Farm Credit associations prepared and served more than 10,000 pounds of chicken in two days to first responders, residents of a local nursing home, a National Guard temporary hospital, churches and the overall Silsbee community.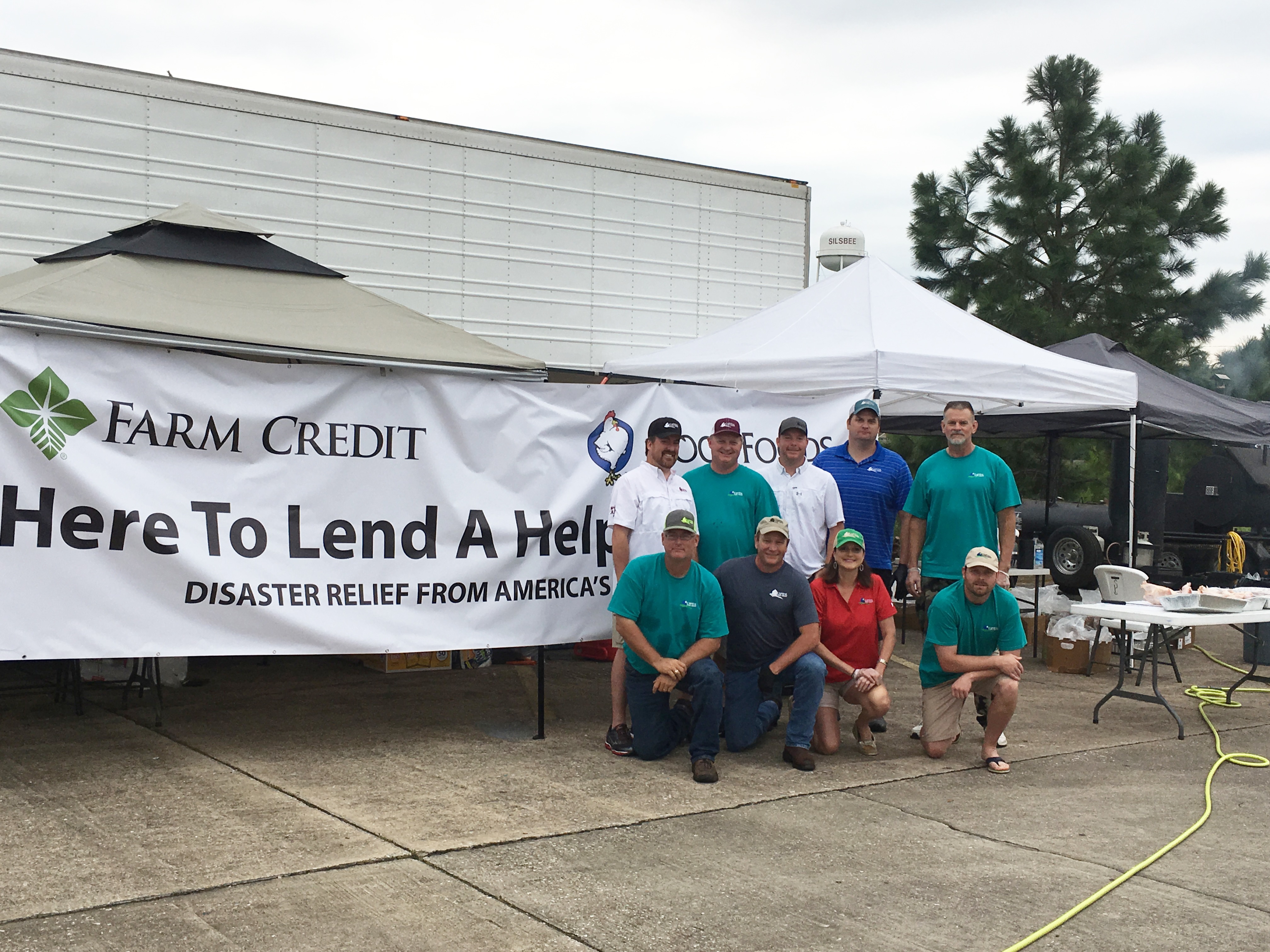 Employees from Texas Farm Credit responded similarly in Refugio and nearby communities, serving 15,000 meals to displaced residents. Watch this video to appreciate the devastation these communities experienced and the power of neighbors helping neighbors.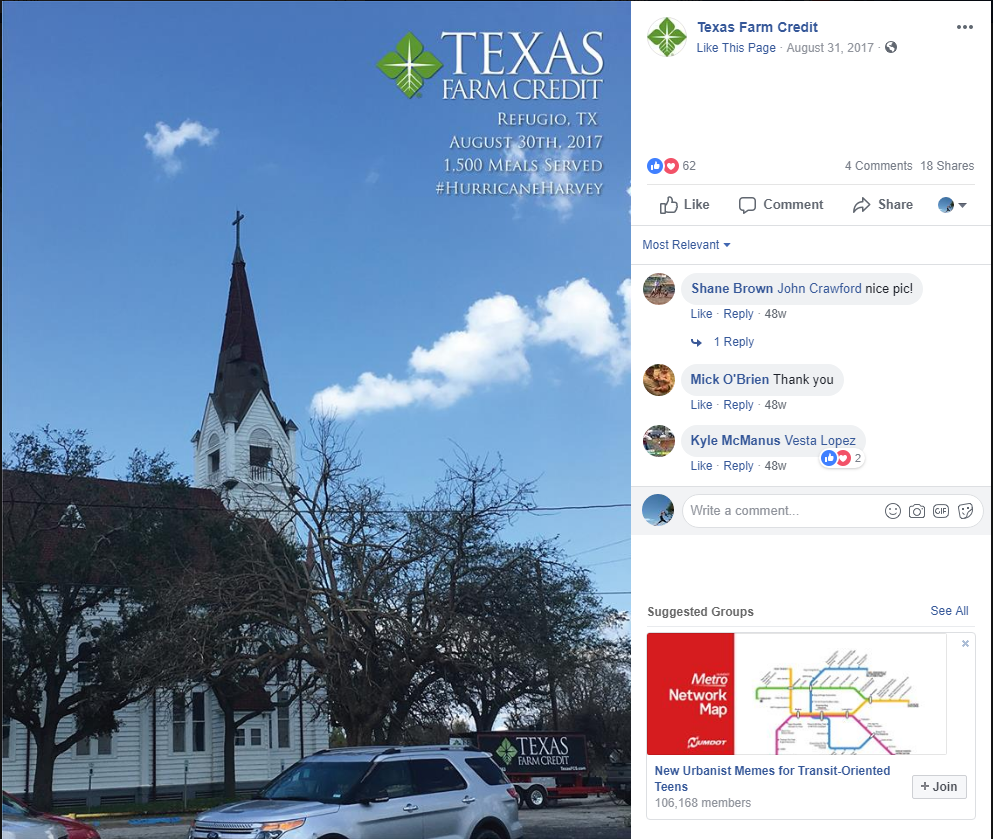 And when a tornado ripped through a small town in Iowa, Farm Credit Services of America employees hit the streets volunteering, serving free lunches and donating fans to storm victims.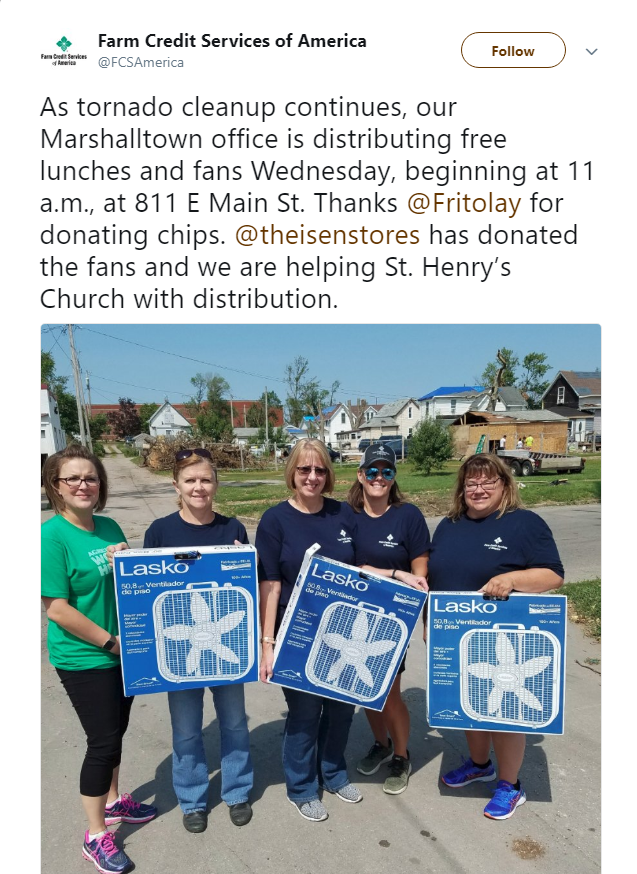 Farm Credit institutions are rooted in their communities and frequently partner with local disaster relief organizations that understand the immediate needs. During the Northern California wildfires of 2017, American AgCredit supported a variety of local disaster funds, as well as organizations aiding agriculture workers and local food banks.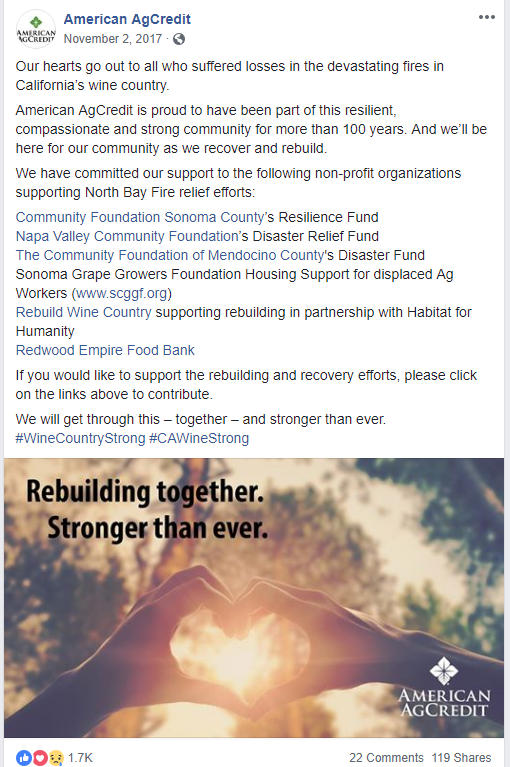 After Hurricane Irma, Farm Credit of Florida, partnering with Farm Credit of Central Florida, CoBank and AgFirst Farm Credit Bank, pledged $15,000 for the Florida Fruit and Vegetable Association's Hurricane Relief Fund aimed at helping farmworkers impacted by the storm. Irma struck early in the agriculture season, leaving many without jobs or homes. These funds helped the Redlands Christian Migrant Association provide immediate basic needs, as well as temporary housing for displaced farmworkers and their families.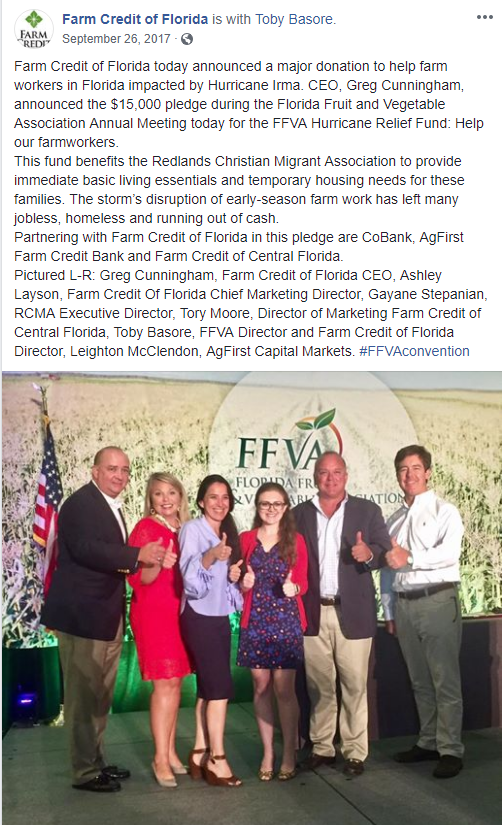 Farm Credit is also a major supporter of the American Red Cross. More than 100 wildfires have devastated the country since the beginning of 2018, resulting in more than 1.6 million acres burned across 14 states. In California, the ongoing Carr fire has taken lives and destroyed homes, as it rages across thousands of acres. In response, CoBank recently made a $100,000 donation to the Red Cross, with $5,000 set aside specifically to address the impacts of the Carr fire. This money matches an additional $5,000 donated by Golden State Farm Credit.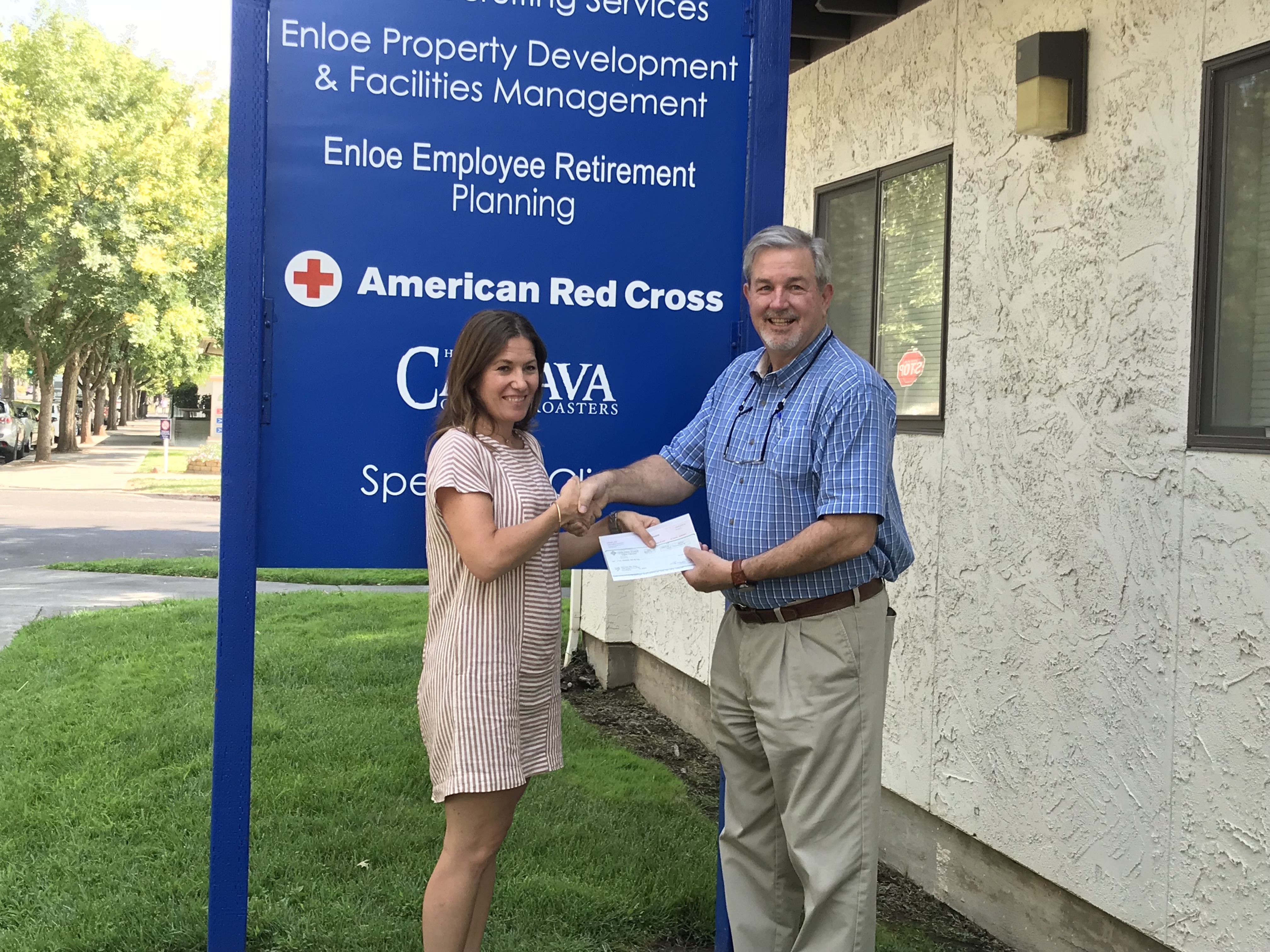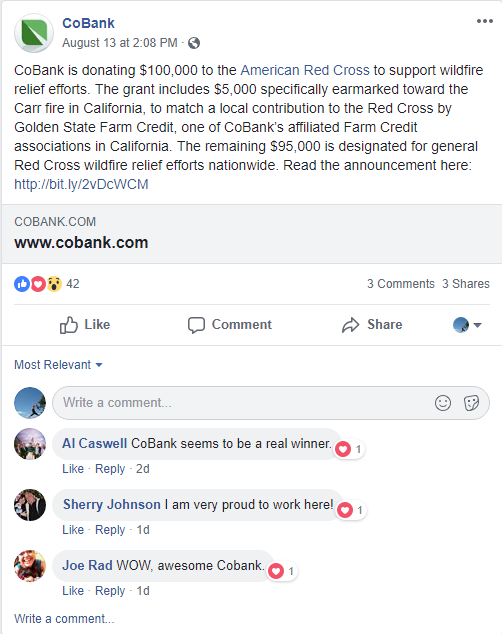 Natural disasters can be catastrophic to farmers and their families, potentially destroying a year's worth of profit, wiping out costly infrastructure or permanently changing the land they call home. Farm Credit remains committed to doing all we can for our customer-owners in good times and bad, not only as lenders but also as members of the rural communities we share.