Farm Credit hosted more than 60 farmer veterans in Washington, D.C., this July as part of a fly-in designed to bring their unique voices to policymakers. Farmer veterans, including Farm Credit customers and employees, along with members of the Farmer Veteran Coalition visited with key lawmakers and leadership at the U.S. Department of Agriculture (USDA) to highlight the role of veterans in agriculture and talk about the needs of servicemen and women as they transition from military to careers in agriculture.
"Farming gave me a purpose," said AgGeorgia Farm Credit customer Mike Reynolds, who served 18 years in the U.S. Army and was wounded in Iraq. The traumatic brain injury Reynolds suffered prevented him from returning to his pre-military jobs as a paramedic and firefighter. 
"If it hadn't been for Farm Credit taking a chance on me when nobody else would, I would still be trying to find a purpose; now I can say, 'I'm a farmer,'" said Reynolds as he told his story of being turned down for a loan by eight different lenders before AgGeorgia worked with him to start his operation. Today, Reynolds and his family own and operate a farm in Gordon County, Georgia, where they primarily raise beef cattle.
Reynolds' comments came as part of a panel discussion held in the U.S. Senate Agriculture Committee room that also featured comments from Tammy Darbyshire, an Air Force veteran and Kansas farmer, Ryan Lankford, an Army veteran and Montana farmer and Jed Welder, who served in the Marines and the Army before starting his family farming operation in Michigan.
Sens. Johnny Isakson (R-Ga.), Pat Roberts (R-Kan.), Jon Tester (D-Mont.) and Jerry Moran (R-Kan.) all joined the Senate panel discussion as well. 
"I spend a lot of time working on veteran homelessness, housing, healthcare and suicide. The single best solution to all those problems is a job, a career and a future. And there's nothing better than agriculture," said Isakson, who chairs the Senate Committee on Veterans' Affairs.
"Bottom line: we want more veterans to have the opportunity to get into agriculture," Senate Agriculture Committee Chairman Roberts added.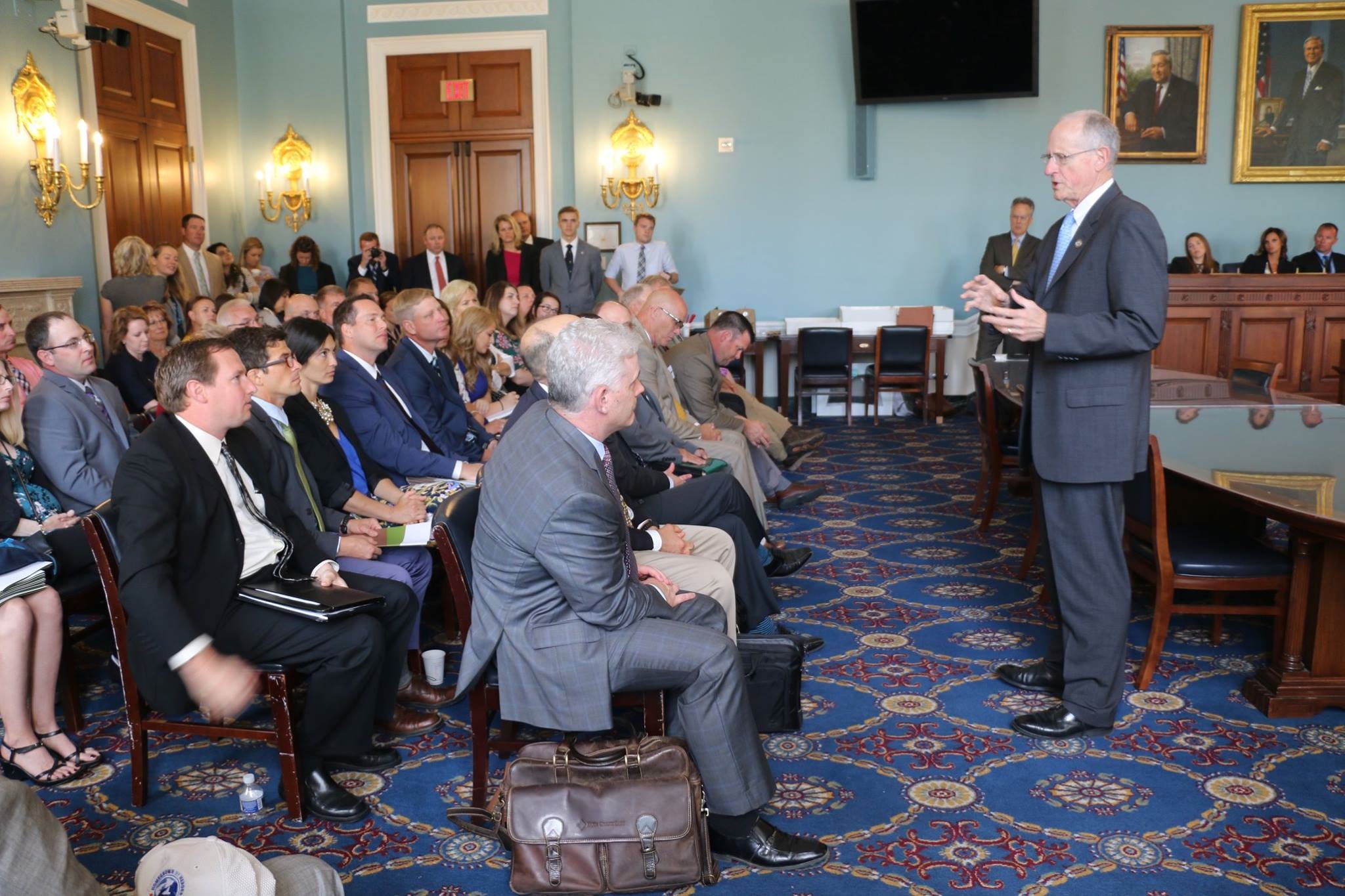 Fly-in participants kicked off their visit with a meeting at the House Agriculture Committee where committee chairman Mike Conaway (R-Texas) discussed the importance of veterans in agriculture and advocating for completing the 2018 Farm Bill before the current version expires in September.
"You could not be here at a more critical time," Conaway said. "Keep pushing this [Farm Bill] process forward – keep the pressure on." 
Rep. James Comer (R-Ky.) was on hand to help unveil a newly revised Homegrown by Heroes label. In 2013, Comer was Kentucky's Agriculture Commissioner and created the original label in the Kentucky Department of Agriculture. The label, designed to help consumers identify agricultural products produced by veterans, was redesigned this year to include women veterans as well. Farm Credit has contributed more than $1 million to help the Farmer Veteran Coalition expand use of the label to veterans throughout the U.S.
"It's something that, as a consumer…you can feel extra proud about. This was someone who was a hero that put their life on the line to protect our country, now they're a hero doing everything they can to produce the best, healthiest, safest, most abundant food supply in the world," Comer said. "Farm Credit took the lead on the Homegrown by Heroes label and made it what it is today," he added.