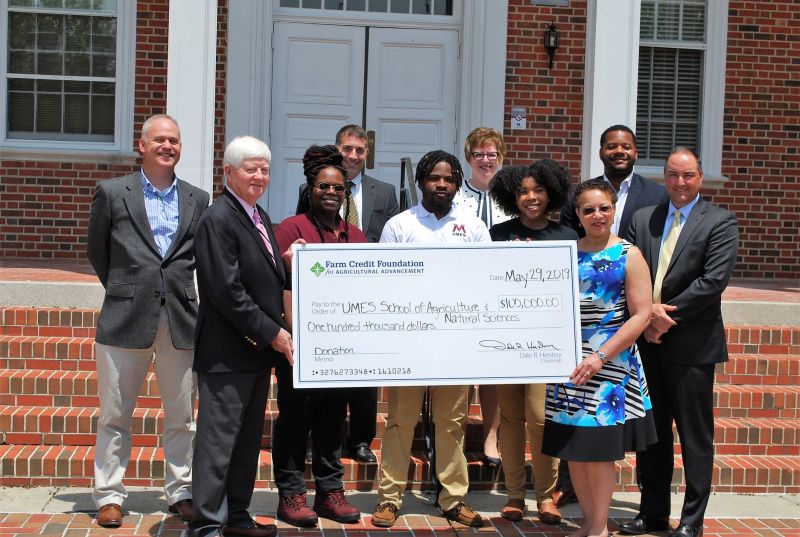 MANRRS raises awareness of agricultural careers for the next-generation beyond crops and livestock. 
Teacher, doctor, professional athlete. All of these careers are visible to young people in their daily lives. Kids learn with their teachers every day at school, they visit the doctor's office for check-ups and they watch professional sporting events on TV. But what about all the jobs that kids don't see, the jobs that they don't even know exist?
While America's increasingly urban youth population may know that they could grow up to be a farmer who cultivates crops or raises livestock, they likely don't know that they could also grow up to be an engineer at an agricultural seed company or a loan officer at Farm Credit.
Agriculture Demands a Diverse Workforce 
Fewer young people are aware of the multitude of careers and opportunities within the agricultural sector, especially with fewer people growing up on farms. That's where Minorities in Agriculture, Natural Resources and Related Sciences (MANRRS) comes in. MANRRS helps students discover how agriculture, engineering and technology relate to the world around them, and MANRRS participants practice academic excellence, leadership, technical development and teamwork.
Horizon Farm Credit understands that the ever-modernizing agriculture industry demands a workforce strengthened by a diversity of skills. This includes the financial skills that Farm Credit employees utilize to provide farmers and ranchers access to reliable and consistent credit across the country. That's why Horizon supports the Junior MANRRS Leadership Institute, an annual agricultural education event for students in grades seven through twelve.
MANRRS Helps Students Discover Opportunities
Each year, Horizon hosts a booth at the Junior MANRRS Leadership Institute's Opportunity Fair, which is an event designed to expose young people to agriculture organizations and jumpstart their thinking about careers in the industry. "We really have to make sure that our students and their parents understand the careers that are available. [At the Opportunity Fair], students make that personal connection and now they know somebody that they can model themselves after," said Karl Binns, who serves as the MANRRS National President, a MANRRS chapter co-leader at the University of Maryland Eastern Shore (UMES), and the UMES lead development officer for the school of agriculture and natural sciences.
Cheryl Steinbacher, senior vice president of human resources at Horizon has attended the Junior MANRRS Leadership Institute for the past five years and watched as students learn about agriculture in a completely new way. "At first, students aren't sure they want a career in ag and assume that means being out in the field and getting their hands dirty. But when they find out there's all kinds of positions, such as underwriting and sales, they get excited," she said. 
Generating Continued Excitement
That excitement continues when Junior MANRRS students get to college. Karl has witnessed this firsthand with the students in his MANRRS chapter at UMES. "When our partners come to our Junior MANRRS Leadership Institute and meet the students, it's much easier to then recruit those students into agriculture programs at the college level. Now they're choosing ag business instead of general business administration," he said.
From college degrees to future careers, the Junior MANRRS Leadership Institute educates young people about the various, and often overlooked, opportunities in agriculture, connecting those students and their multitude of talents to potential careers and ensuring a strong agriculture industry for years to come.