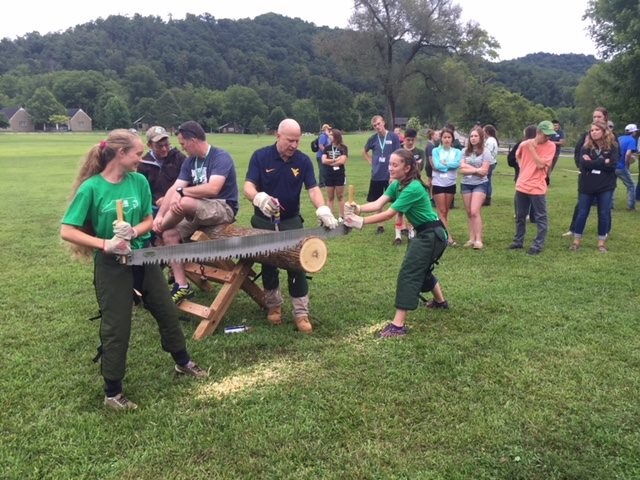 Students put their forestry knowledge to the test each year at the National 4-H Forestry Invitational. The 2018 participants, having won contests at the local and state levels, traveled from 15 states to West Virginia University's Jackson's Mill State 4-H Camp and Conference Center to compete on a range of forestry-related topics. 
Students enter competitions in tree identification, compass and pacing, insect and disease identification, topographic map use and forest evaluation. They also go head-to-head in a forestry quiz bowl and apply their knowledge to a real-to-life situation: making a recommendation for a fictional landowner based on their awareness of forestry best practices. 
Todd Dailey, chief appraiser at Farm Credit of Florida, remembers attending the conference as a teenager. Twenty-four years later, he returned as a coach for his children. Recognizing a nexus between his personal interests and employer's focus on supporting the next generation of agriculture, food and forestry leaders, Dailey secured a Farm Credit sponsorship of the Invitational in 2007, and that commitment has continued, funding housing and travel stipends for students each year since.  
The competition helps prepare the high school students for the next phase of their educations. Dailey noted the students' knowledge and abilities far surpass their age, comparing them to "a student who has just completed their first year of college studying similar topics. Anyone who comes out of this and chooses to go into forestry as a career path will be very well-prepared for the curriculum at a university." 
In addition to college preparation the students benefit from the opportunity to interact with like-minded peers from across the country and gain knowledge about how forestry differs across regions.
Partnerships with community organizations like 4-H, both in financial support and in countless volunteer hours by employees like Dailey, underscore Farm Credit's support of rural communities and agriculture. "We're here to support our customers in their endeavors as they become good stewards of the land and successful businesspeople in agriculture," said Dailey.