Farm Credit is committed to the rural communities that farmers and ranchers – and our local cooperatives – call home. 
Whether this means advocating for access to broadband, supporting rural entrepreneurs or providing disaster relief, we're here to help.
Rural innovation 
Entrepreneurship holds the potential to transform rural communities. Just like their urban peers such as Silicon Valley, California and Austin, Texas, rural communities across the country benefit from the influx of fresh ideas and innovative businesses. However, rural entrepreneurs face unique challenges, like inadequate access to broadband, higher transportation costs and lack of access to a business network. 
Farm Credit's commitment to supporting rural communities and agriculture means ensuring rural entrepreneurs have the tools they need to overcome these barriers and grow their businesses, right in rural America. That's why Farm Credit has partnered with the American Farm Bureau Federation to present the 2021 Ag Innovation Challenge, now accepting applications through July 31, 2020.
Launched in 2015, the Challenge is the first national business competition focused exclusively on rural entrepreneurs launching food and agriculture businesses, and it continues to focus on strengthening rural America through ag entrepreneurship today. Learn more here. 
Broadband 
Rural innovators aren't alone in their need for access to broadband internet. Farmers seeking to use precision agriculture, doctors and nurses employing telehealth, teachers supporting their students and students themselves all need access to high-speed internet. Yet so many rural Americans today don't have that access. 
Farm Credit understands how broadband is essential to the health, success and sustainability of rural America. Our mission-driven employees, many of whom live in the rural communities they serve, feel the frustration of insufficient broadband access on a personal level. 

To help identify areas lacking access, Farm Credit partnered with the National Association of Counties (NACo) to develop the TestIT mobile app (Apple | Android). Taking a grassroots approach, anyone can test their broadband speed from anywhere at any time with the press of a single button with the TestIT app. The information collected through TestIT allows NACo to identify areas with low or no connectivity to help inform federal policy and funding decisions around broadband infrastructure. Read more about NACo's initial findings. 
Natural disasters
As members of the rural communities we serve, Farm Credit employees step up to help when disaster strikes. 
Looking back through recent years reminds us of the destructive hurricanes, wildfires and tornadoes that affected communities across the country – communities like Silsbee, Texas, hit hard by Hurricane Harvey in August 2017. Capital Farm Credit and Southern Ag Credit immediately stepped up to help in Harvey's wake. Together, employee volunteers from these two Farm Credit associations prepared and served more than 10,000 pounds of chicken in two days to first responders, residents of a local nursing home, a National Guard temporary hospital, churches and the overall Silsbee community.
And when a tornado ripped through a small town in Iowa, Farm Credit Services of America employees hit the streets volunteering, serving free lunches and donating fans to storm victims.
The story was similar in North and South Carolina after Hurricane Florence devastated highways, homes, businesses, and farming operations in September of 2018. Fulfilling the Farm Credit mission of being there for agricultural and rural communities through good and bad times, Farm Credit team members participated in at least one of the nine "Farm Credit Cares" volunteer days in November. Over 200 Farm Credit employees across six states spent more than 1,700 volunteer hours in eastern North Carolina and northeastern South Carolina assisting impacted families get back into their homes. Watch this video for a glimpse into those what volunteers experienced during their service.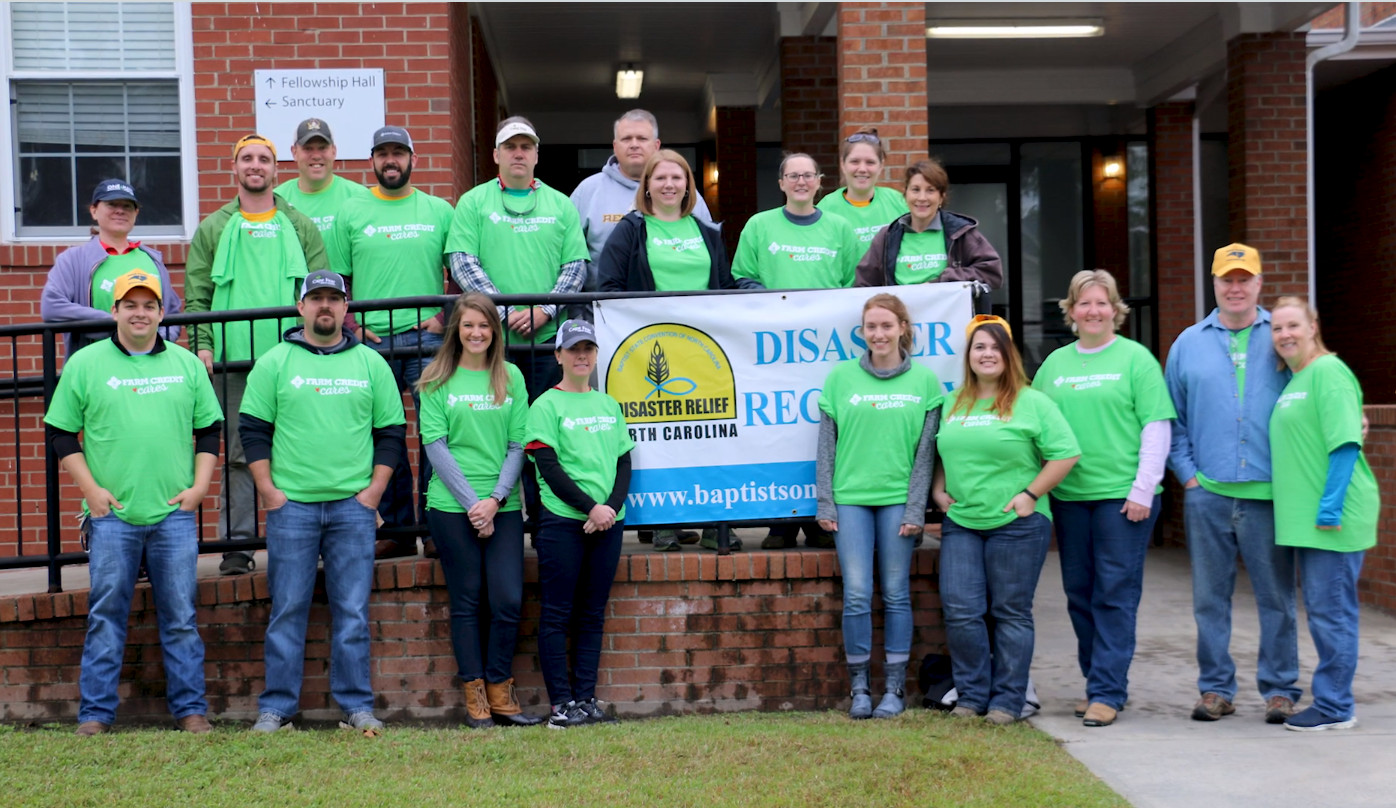 Read the blog posts above to learn more about the ways that Farm Credit supports rural communities across the United States.