WASHINGTON, D.C. – Farm Credit System lenders' dedication and commitment to the next generation of farmers and ranchers was on display at today's Farm Credit Administration (FCA) board meeting, which received its annual report on young, beginning and small farmers.
FCA, Farm Credit's federal regulator focused on the safety and soundness of the Farm Credit System, noted marked increases in both new loan volume and the number of loans Farm Credit lenders made to young, beginning and small farmers and ranchers.
"Across the country, Farm Credit lenders dedicate significant resources to supporting young and beginning farmers. It's a critical part of Farm Credit's mission, and it's critical to the future of American agriculture," said Todd Van Hoose, president and CEO of Farm Credit Council. "In 2021, Farm Credit made more loans to young and beginning farmers for more money than ever before. Across the country, Farm Credit lenders made 97,127 loans to beginning farmers last year, amounting to more than $26 billion."
"Farm Credit has specialized programs that provide educational opportunities and loans which take into consideration the challenges of starting out in production agriculture. As cooperatives, owned and governed by our customers, Farm Credit actively works to finance opportunities in agriculture for beginning farmers," Van Hoose added.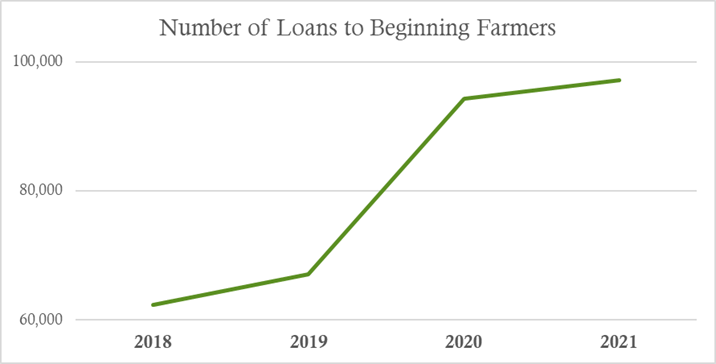 Farm Credit supports rural communities and agriculture with reliable, consistent credit and financial services, today and tomorrow. It has been fulfilling its mission of helping rural America grow and thrive for more than a century with the capital necessary to make businesses successful and by financing vital infrastructure and communication services.
###