Brad Farbstein & Gabriel Gregerman
Blanco, Texas
Brad Farbstein & Gabriel Gregerman
Young brewery owners tap into smart financing solutions by applying their business savvy to the purchase of a country home.
For more than a year, Brad Farbstein and his wife, Gabriel Gregerman, searched for a homesite in the Texas Hill Country. To stay within their budget, they considered only 5- to 10-acre parcels.
The Perfect Property
Then their real estate agent showed them 70 acres with rolling hills, a gurgling creek and three live springs. What's more, the land was just a few miles north of Blanco, where they own and operate Real Ale Brewing Co.
"We instantly fell in love with the property," Farbstein recalls. "But it was bigger than what we wanted and way out of our price range."
Longing for the privacy and peace of a rural lifestyle, they had already sold their home in Austin, Texas, in 2005 and were living in a rental house in Blanco, while they searched for the perfect spot. "We decided we'd get more value from our money by buying property near there," Farbstein explains. "Plus, we'd be closer to the brewery and not have to commute."
Minus the large price tag, the 70 acres seemed like a good fit. But another hitch posed a problem, too. The sellers were still storing engine parts, dismantled vehicles, furniture, vintage train sets, boats and aging travel trailers in a 5,000-square-foot metal barn on the property. "Our real estate agent, though, knew we had enough vision to see past the barn," Farbstein says. "The owners were eager to sell, too, because the property had been on the market for more than three years."
So their savvy agent proposed a mutually beneficial solution.
Staggered Land Purchases
"Essentially, we negotiated with the owners to split the property into two purchases," Farbstein says. "We did that for two reasons. First of all, we didn't have enough cash to buy the entire property. The other reason was the owners needed the extra time to remove their belongings from the property."
In September 2006, Farbstein and Gregerman signed two real estate agreements. One purchased the first 35 acres; the second spelled out the couple's intent to purchase the other half with the existing barn at a later date. When the time came to finance the deal, the real estate agent gave the couple more wise advice: Contact Capital Farm Credit.
"We called the Kerrville branch and got hooked up with lending officer Sarah Cortese. She came out and looked at the property with us," Gregerman says. "She's been great to work with. We really consider her more as a member of our family than a banker."
Smart Decisions
Likewise, Cortese says she admires the couple's business smarts. "We often see people jump into deals with both feet," she says. "Not Brad and Gabriel. Every decision they've made has been carefully thought out. They live within their means and are very responsible with their financing."
In September 2007, the couple closed on the second half of their property. After three years of renting, they decided to move out, put the money toward their two loans and live in the Airstream travel trailer they previously had used as the brewery's main office.
"It was available, so we thought why not?" Farbstein says. "I figured it'd either destroy or solidify our relationship." Chuckling, he adds, "We ended up living in the Airstream for three years!"
Though cramped, the trailer gave the couple a practical way to gain perspective. "Before we started thinking about building a house, we lived a year in the Airstream on the property because we wanted to get to know the land first," Gregerman says. "That's how we came to build our home within the barn. It was already here, and we didn't want to put another footprint on the land."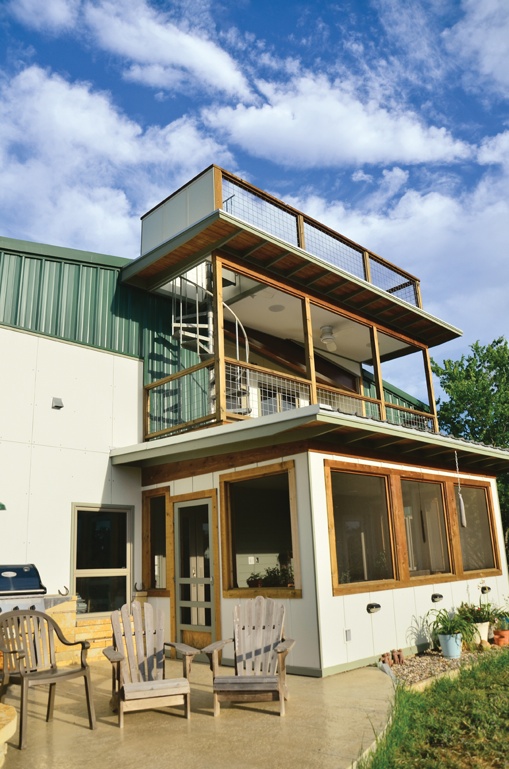 Two Loans Rolled Into One
In April 2010, Cortese helped the couple develop a financing plan that rolled the two loans and construction costs for their new home into one payment with a lower interest rate.
"We worked for four months with our architect to design our home," Farbstein says. "Gabriel and I both wanted to use renewable resources and green materials as much as possible. We also wanted to include natural light, lots of open spaces and a rainwater collection system."
Farbstein and Gregerman built a home within their 5,000-square-foot barn, and in March 2011, the couple moved into their new two-story home. Their dwelling is known as a "barndominium," which incorporates half of the barn's original concrete foundation, metal walls and steel beam frame. Downstairs, the concrete floors, which are diamond-polished to expose the aggregate, gleam like shiny porcelain. Skylights brighten upstairs rooms, and a whole-house fan helps to cool the home. From a second-floor balcony, a spiral staircase leads to a third-level observation deck, which offers panoramic views of the surrounding hills. A 15,000-gallon rainwater collection system harvests rain from the barn's expansive roof.
"It's been a really positive experience working with Capital Farm Credit and being a part-owner of the cooperative," Farbstein adds. "The patronage program has been amazing, too. It was nothing like we expected. This year, our payoff was worth two mortgage payments. We received the check at just the right time - when Sadie Jane was born."
More stories from