As the more than 20 million veterans living in the U.S. transition to civilian life, many veterans choose agriculture for their profession. Some return to family farm operations, others strike new ground. Whatever their situation, Farm Credit is committed to helping them succeed, and our efforts take a variety of forms. 
On July 11, Farm Credit invited farmer veterans from across the country to Washington, D.C., to share their stories with lawmakers on Capitol Hill. This opportunity to hear from our heroes helped underscore the critical role agriculture can play for veterans returning home from military service. 
In addition to a briefing with House Agriculture Committee Chairman Mike Conaway, four farmer veterans also shared their journeys during a panel discussion at the Senate Agriculture Committee. These heroes were joined by five members of Congress who celebrated the service farmers and veterans provide to our country. To hear more from the farmer veterans we're proud to call our customer-owners, check out their stories below. 
To help these farmer veterans differentiate and market their products, Farm Credit and the Farmer Veteran Coalition have been partnering on the Homegrown by Heroes program – a voluntary marketing label for farmer veterans.
Launched by the Kentucky Department of Agriculture in January 2013, the FVC has administered the program nationally since Veterans Day of the same year. With a network of more than 11,000 veterans and expertise in veteran-owned and -operated agriculture, the FVC helps returning veterans start careers in food and farming through education, employment resources and grants.
More than 1,350 veterans across the country use the Homegrown By Heroes label to provide consumers a tangible way to support veterans in the marketplace. The program also has partnered with 20 state departments of agriculture to promote the program alongside their respective "buy local" labels.
Farm Credit's support for the Homegrown By Heroes program – more than $1 million since 2012 – has helped it expand across the country.
Making tools like the Homegrown by Heroes label available is critical, especially for returning veterans. While rural America makes up 14% of our nation's population, more than 44% of veterans have rural roots and often return to their hometowns after serving. Rural America's outsized commitment to our military also means there's an extraordinary opportunity for returning veterans to find a new purpose in agriculture.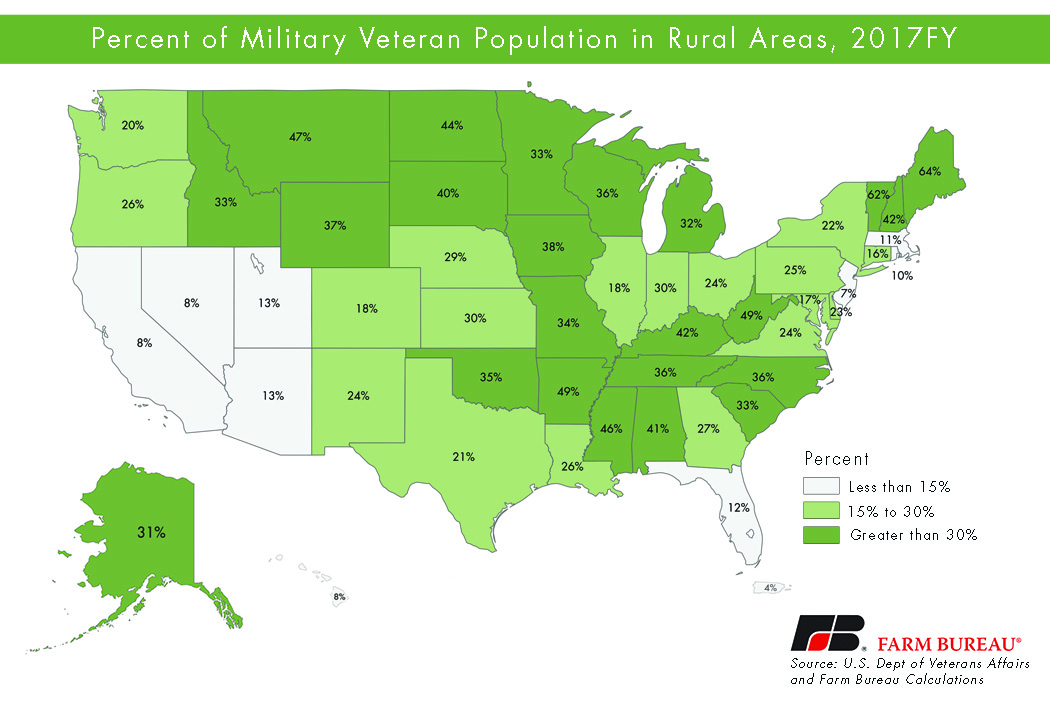 Farm Credit institutions across the country offer a variety of programs aimed at helping veterans either return to family farm operations or support others as they get started. Four Farm Credit institutions in Arkansas extend support to the spouses and children of veterans, too. A recent partnership with the Arkansas Agriculture Department resulted in four $1,000 Homegrown by Heroes academic scholarships to military veterans, currently serving military personnel and their spouses or children who are pursuing an agricultural or an agriculture-related degree.
CoBank supports a unique partnership with No Barriers USA. Together the groups created a program that honors the men and women from rural America who have served in the U.S. military and returned home with various forms of service-related disabilities. CoBank customers throughout the country nominated veterans from their rural communities to participate in a CoBank-sponsored No Barriers Warriors expedition in the Colorado wilderness.
Whether it's a local scholarship or helping a farmer veteran connect with their Senator, Farm Credit is committed to helping heroes across the country thrive and grow within their rural communities and newfound paths in agriculture.